My kitchen garden is flourish with tomatoes and I can't help but inspired to cook with this fresh produce. A batch of this South Indian style tomato chutney for idli and dosas was perfect to put the ripened tomatoes to use.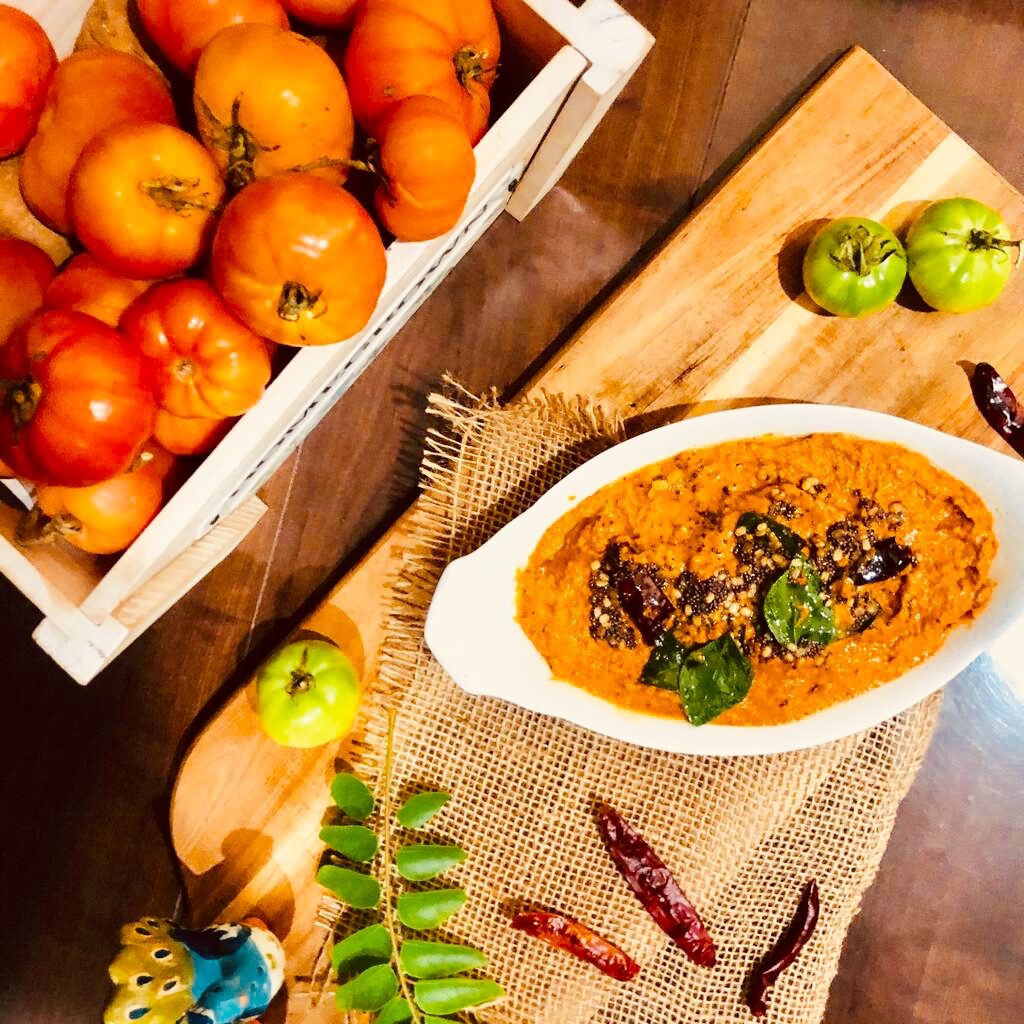 Ingredients
1 tbsp any cooking oil
2 tbsp Fresh Coconut (Grated)
3-4 large garlic cloves (optional)
1 tsp tamarind paste
1 Onion (Chopped)
4 chillies dried red
1/4 tsp fenugreek seeds
2 tsp chana dal
pinch asafoetida
4 tomatoes roughly chopped
3/4 tsp salt
1/4 tsp turmeric powder
1/2 cup coriander leaves
For Tempering
1 tbsp Vegetable Oil
1 tsp Urad Dal
1 tsp Mustard Seeds
10-12 Curry Leaves
2 chillies dried red
INSTRUCTIONS
1.Heat oil, add asafoetida, Chana dal and fenugreek seeds cook for 1 minute add onions and garlic to it and cook till they are brown. In the same pan, add the chopped tomatoes and rest of the Ingredients and sauté until it turns mushy. Allow this to cool.
2.Transfer the cooked tomatoes to a mixer jar / food processor and grind to a coarse or fine paste, as per your liking.
3.Add little water if required.
4.Heat oil for tempering in a pan.
5.Once the oil is hot, add urad dal, mustard seeds and curry leaves and fry until dal turns golden brown.
6.Pour the tempering over the chutney
7. Save in an airtight container in the refrigerator. Use within 3-4 days.
RECIPE NOTES
Serve this tomato chutney with idli, dosa, parathas.
Use fresh mint leaves instead of coriander.