Light and fluffy chocolate swiss roll cake filled with whipped frosting rolled up in a moist chocolate sponge cake and dusted with icing sugar!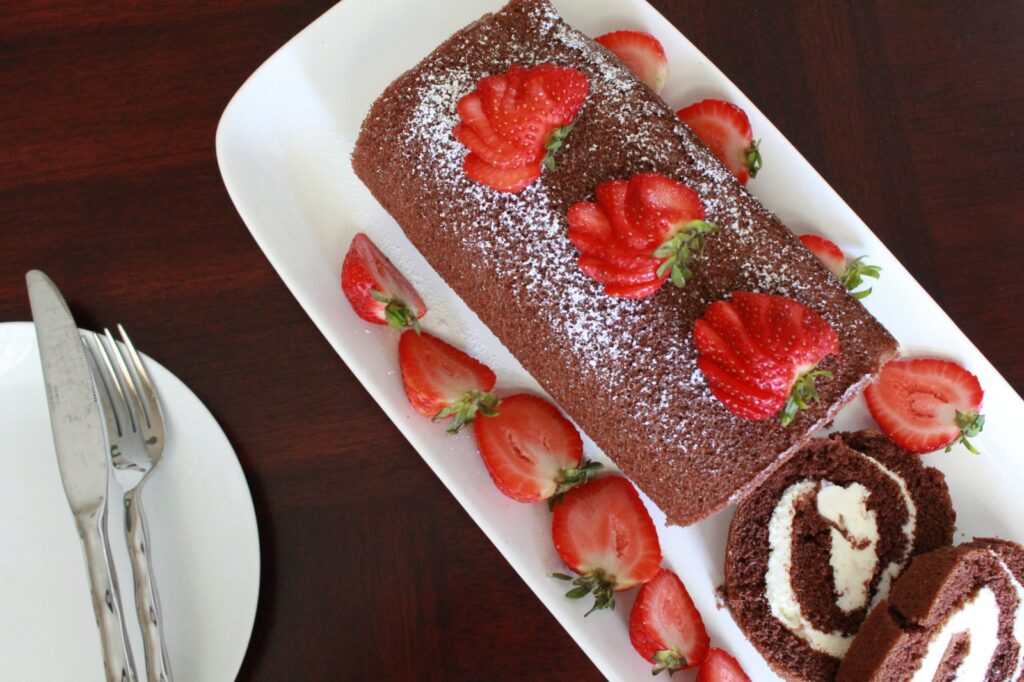 Ingredients
For eggless chocolate cake:
1 ½ cup All purpose flour (maida)
4 tablespoons Unsweetened cocoa powder
1 ½ teaspoons Baking powder
¾ teaspoon Baking soda
1/2 teaspoon Instant coffee powder
1 cup Sweetened Condensed milk
¾ cup Unsalted Butter room temperature
1 ½ teaspoons Pure Vanilla extract
¾ cup Milk
Vanilla Whipped Cream
1 cup cold heavy whipping cream
3 Tablespoons granulated sugar or confectioners' sugar
1 teaspoon pure vanilla extract
Instructions
Preheat the oven to 350 degrees F or 180 degrees C for at least 10 minutes.
Take dry ingredients (all purpose flour, cocoa powder, baking powder, and baking soda in a bowl. Mix well using a wire whisk. Keep it aside.
Add milk, condensed milk and vanilla extract to the butter. Whisk well till everything is incorporated well.
Now sift the half of the flour mixture into the wet mixture. Whisk it till incorporated.
Now sift the remaining flour mixture. Again mix it. Halfway through, switch to the spatula. And stir till it is just combined, do not overmix.
Grease a 10×15-inch cake roll pan, and line the base with parchment paper.
Pour the batter into the prepared pan, and spread out evenly. Tap the pan lightly on the surface a few times to level out the batter.Bake for 10 to 12 minutes.
Take out the cake, invert the pan onto a clean, slightly damp kitchen cloth, and remove the parchment paper from the bottom. Roll up the cake and hold it in place.
Make the whipped cream: Using a hand mixer or a stand mixer fitted with a whisk attachment, whip the heavy cream, sugar, and vanilla extract on medium-high speed until medium to stiff peaks form, about 2-3 minutes.
Slowly and gently unroll the cake. Spread whipped cream evenly on top, leaving about a 1/2 inch border around the cake. Re-roll the cake without the tea towel. Cover and refrigerate for at least 1 hour. Dust with icing sugar, slice and serve.