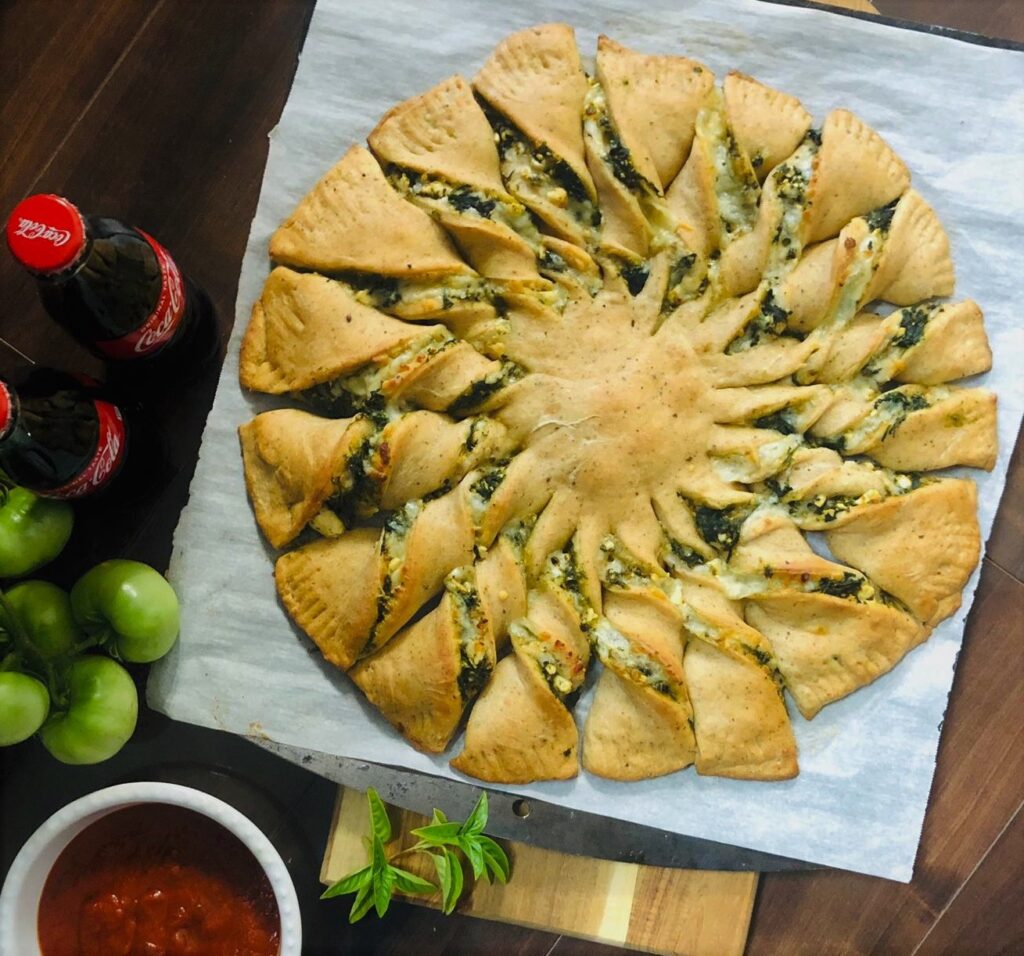 I love spinach, and I decided to make it a tarte. The result is incredible and delicious. You can also try this and I'm sure you going love it! Cheese and Spinach Tart with Pesto sauce or Spinach and Broccoli Tarte Au Soleil. This delicious vegetarian tart looks so impressive when you serve it. It looks really hard but it really isn't. It contains lots of vegetables…..spinach and Broccoli is full of nutrients too!!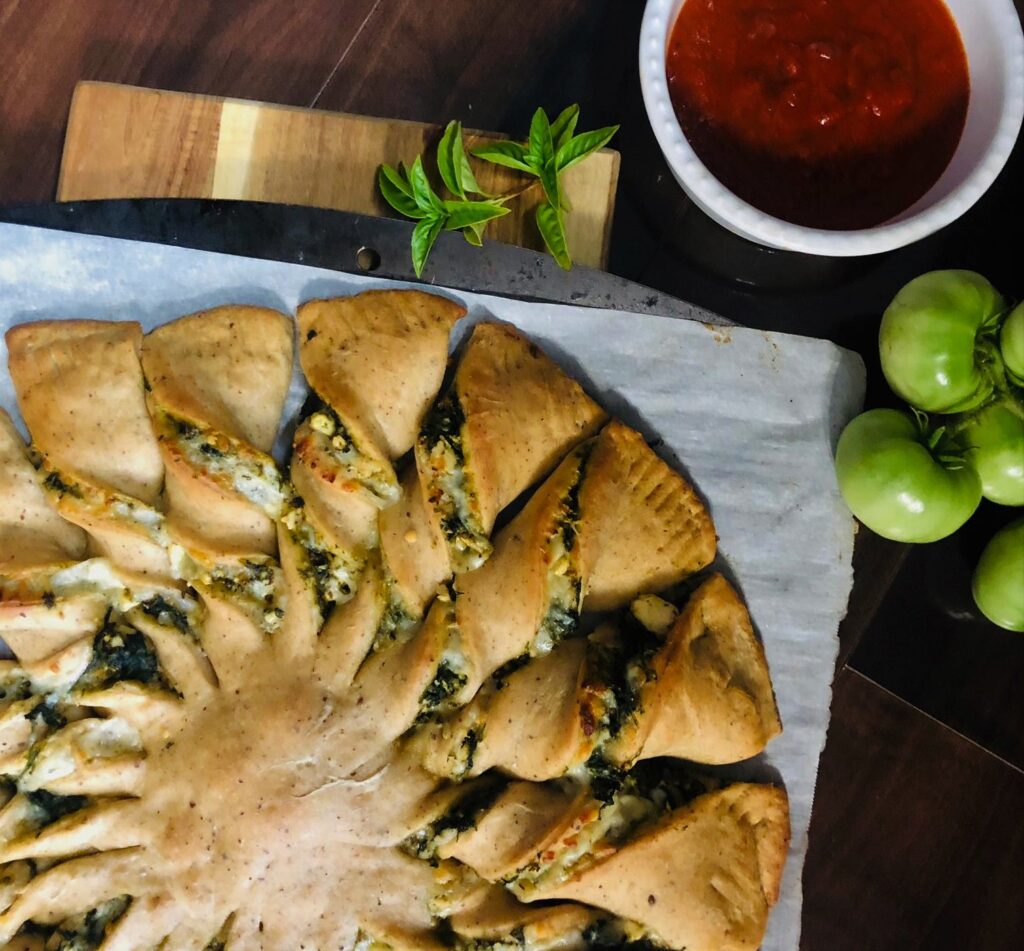 Ingredients
2-1/3 cups all-purpose flour (king Arthur flour)
2 teaspoon instant yeast  
1-1/2 teaspoons sugar
1/2 teaspoon salt
2 teaspoon Italian seasoning
2 Tablespoons olive oil 
3/4 cup warm water approximately
½ cup pesto sauce
1 cup fine chopped broccoli
2 cup spinach
¼ cup feta cheese
¾ cup grated mozzarella cheese
1 tablespoon butter
1 tablespoon chopped basil leaves or coriander leaves
1 teaspoon red chilli flakes
Instructions
Combine flour, instant yeast, sugar, and salt in a large bowl. If desired, add Italian seasoning at this point as well.
Add olive oil and warm water and use a wooden spoon to stir well very well.
Make a soft dough. The dough will still be slightly sticky but still should be manageable with your hands.
Drizzle a separate, large, clean bowl generously with olive oil.
Lightly dust your hands with flour and form your pizza dough into a round ball and transfer to your olive oil-brushed bowl. Cover the bowl tightly with plastic wrap and place it in a warm place.
Allow dough to rise for 40 minutes or until doubled in size.
Meanwhile prepare filling.
Cook spinach for 5 min. While spinach cools, finely chop broccoli and transfer to a medium bowl. Add crumble Feta and mozzarella cheese into a bowl.
Transfer spinach to a strainer and squeeze the water, chop and add to bowl with Cheese mixture.
Preheat the oven for 375F.
Time to assemble! Divide dough into 2 parts. Dust lightly with flour and Roll it out on parchment paper, roll other part also same way.
Spread spinach mixture over, leaving a ½" border. Place second round of pastry on top and press gently with fork to seal. Using a small cup or shot glass (2″ in diameter), make an indent in the very center.
With a knife, cut rolled dough into 4 quadrants, stopping when you reach the center circle. Cut each quadrant in half, then in half again Transfer tarte with parchment back to sheet tray.
Working with one spoke at a time, pull gently away from the center then twist to expose the spinach insides. Aim for 2 to 3 twists. Nudge them around to distribute evenly.
Bake tarte for 30 min.
Mix butter, chopped basil and chili flake, apply on warm tart serve with choice of your sauce.