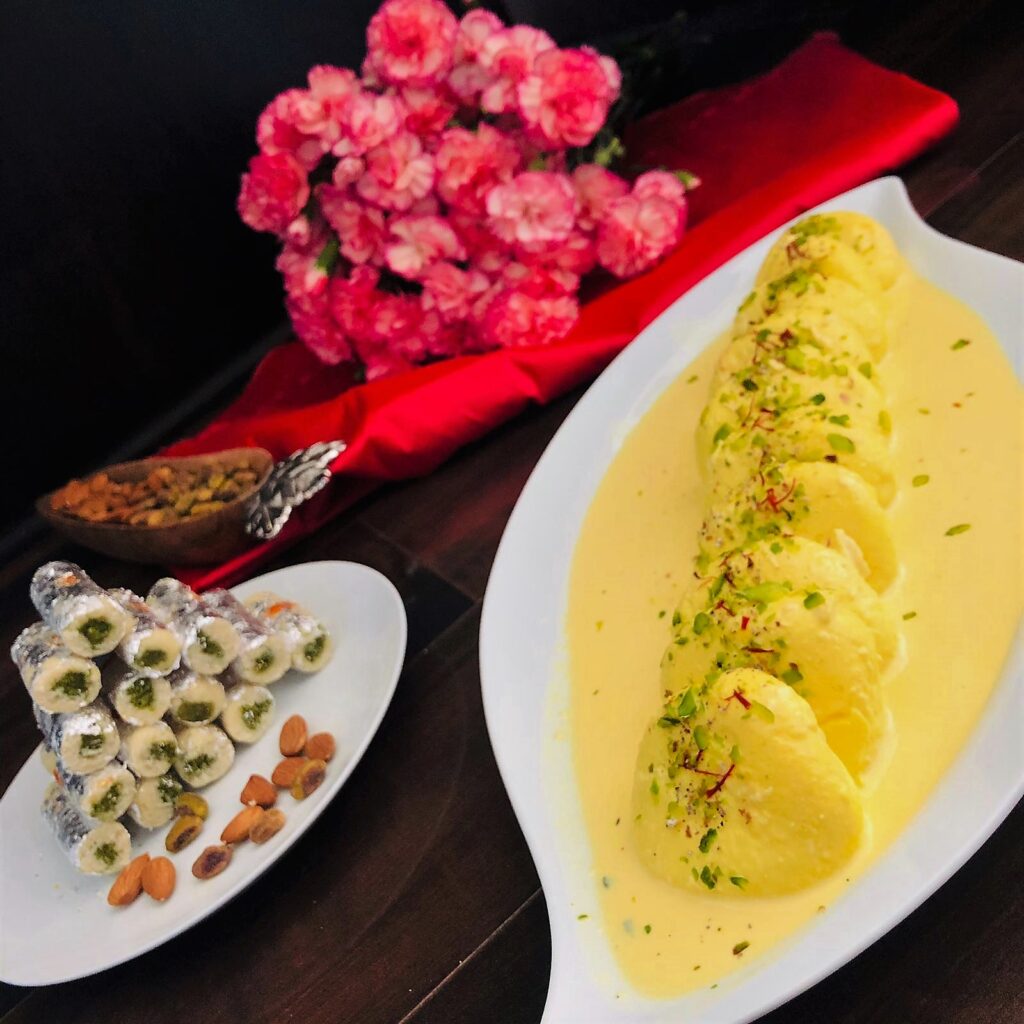 This Rasmalai Recipe features soft and spongy rasgulla swimming in a silky smooth cream perfumed with almonds, pistachios, saffron and cardamom. It's a wonderfully rich Indian dessert. In this post, sharing step by step method to make delicious soft homemade Rasmalai the traditional way on the stovetop.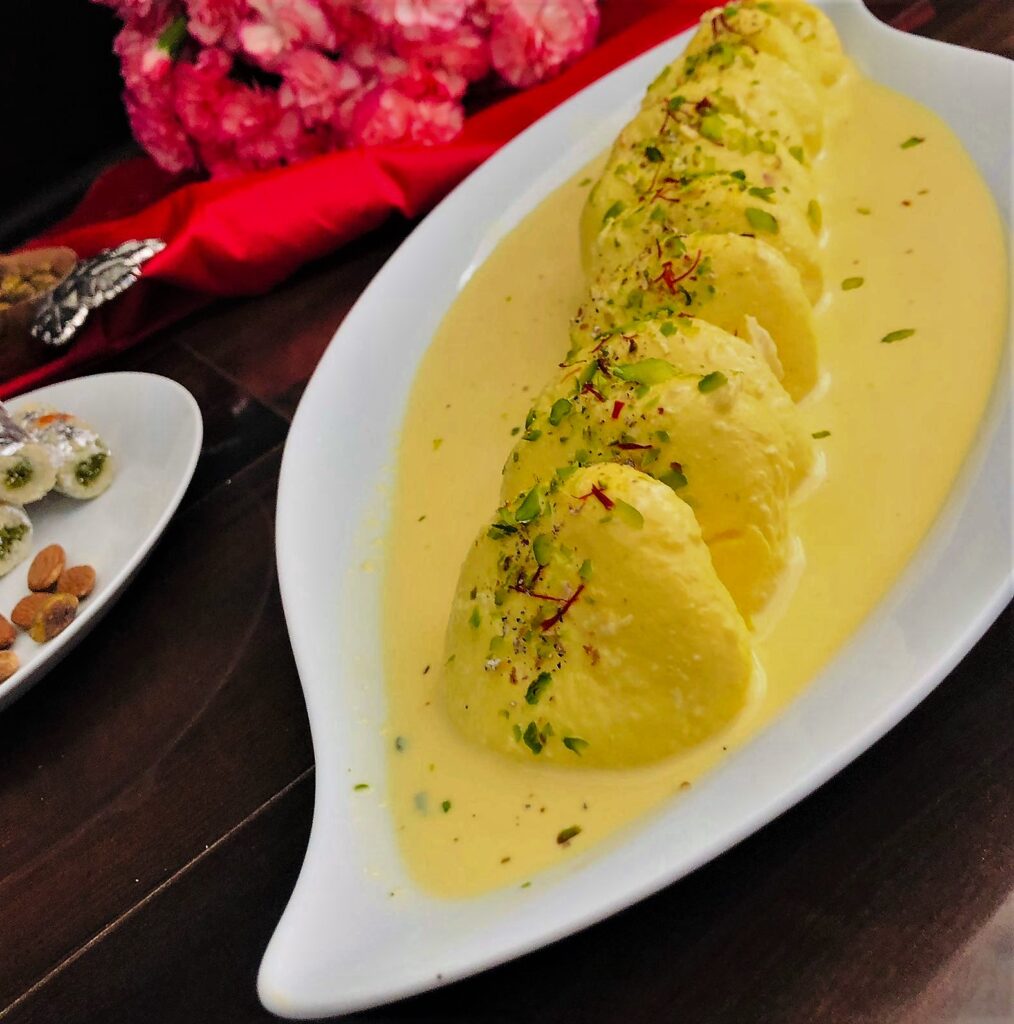 Ingredients
For Rasmalai balls
5 Cup Cow's Milk Full Fat
2 – 3 Tbsp Vinegar
1 cup Sugar
5 cup Water
1 Tsp Kewda water or rose water
Cold water
For sugar syrup
4 cups water
1 cup sugar
1 tsp rose water
For thickened milk (ras)
4 cups milk
¼ cup sugar or condensed milk
¼ tsp cardamom powder
pinch saffron
10 pistachios sliced
10 almonds sliced
Instructions
For Rasmalai balls
In a thick bottom vessel, bring the milk to a boil stirring in between to avoid it sticking to the pan.
Lower the heat, add vinegar 1 tbsp at a time and mix until you see all the milk has curdled (you see a clean greenish liquid, whey remaining). I used 2 tbsp vinegar.
line a muslin cloth to a strainer. Filter the whey out collecting the curdled milk in the muslin cloth.
Run some cold water over it and rinse for a couple of times to get rid of the sour taste from the vinegar/lemon juice.
Now gather the ends of cloth together and squeeze the liquid out as much as possible and hang it for 20-30 mins to drain the liquid further.
It should not be completely dry but not too wet either.
transfer the block of paneer to a plate or bowl.
Crumble and knead with your palms for about 5-7 mins until it forms a smooth dough. Do not over-knead.
Alternately you can also knead it in a food processor, pulse for a minute or less. It will turn from crumby grainy to smooth and lump up on one side. Remove on to a clean plate.
The paneer is ready when it is smooth and soft and does not stick to your hand.
Divide into 10 portions, roll into a ball apply some pressure to knead into a smooth ball, and flatten them slightly to shape.
Soaking in sugar syrup
In another pan get the water and sugar mixture to a rolling boil.
Add these chenna balls gently in it and close the lid. Add only as much the pan can hold since the balls will expand. Do it in batches if required.
Let these boil 5 mins on high and 10 mins on medium heat and you will see they absorb the liquid and expand in size (almost double).
Turn off the heat , add rose water and allow them to rest in the syrup for 1 hour.
For making thickened milk (ras)
In a thick bottom nonstick vessel, get milk to a boil stirring in between to avoid sticking to the pan.
Take 2 tablespoons of boiled milk and add it to another bowl with saffron threads, mix well and allow the saffron to soak.
Lower the heat and simmer milk, stirring intermittently
repeat this process until the milk has reduced and thickened (almost half).
Add saffron mixed in warm milk along with sugar cardamom powder and nuts and simmer for another 5 mins. Turn the heat off at this point.
Squeeze the balls gently between your palms Add them to this warm thickened milk and allow the balls to soak up.
Cool completely, garnished with more nuts and dry rose petals, and keep refrigerated until ready to serve.
Delicious, soft melt in mouth Rasmalai is ready!!