Mawa Gujiya is a very popular Indian festival dessert, prepared mostly during Holi and Diwali. Holi Festival is incomplete without Mawa Gujiya, Fried flaky dough filled with sweetened solid milk, and assorted nuts. It's a quintessential Holi dessert. You can also make these mouth-watering gujiyas at home. These Mawa gujiyas are a must for your holi party.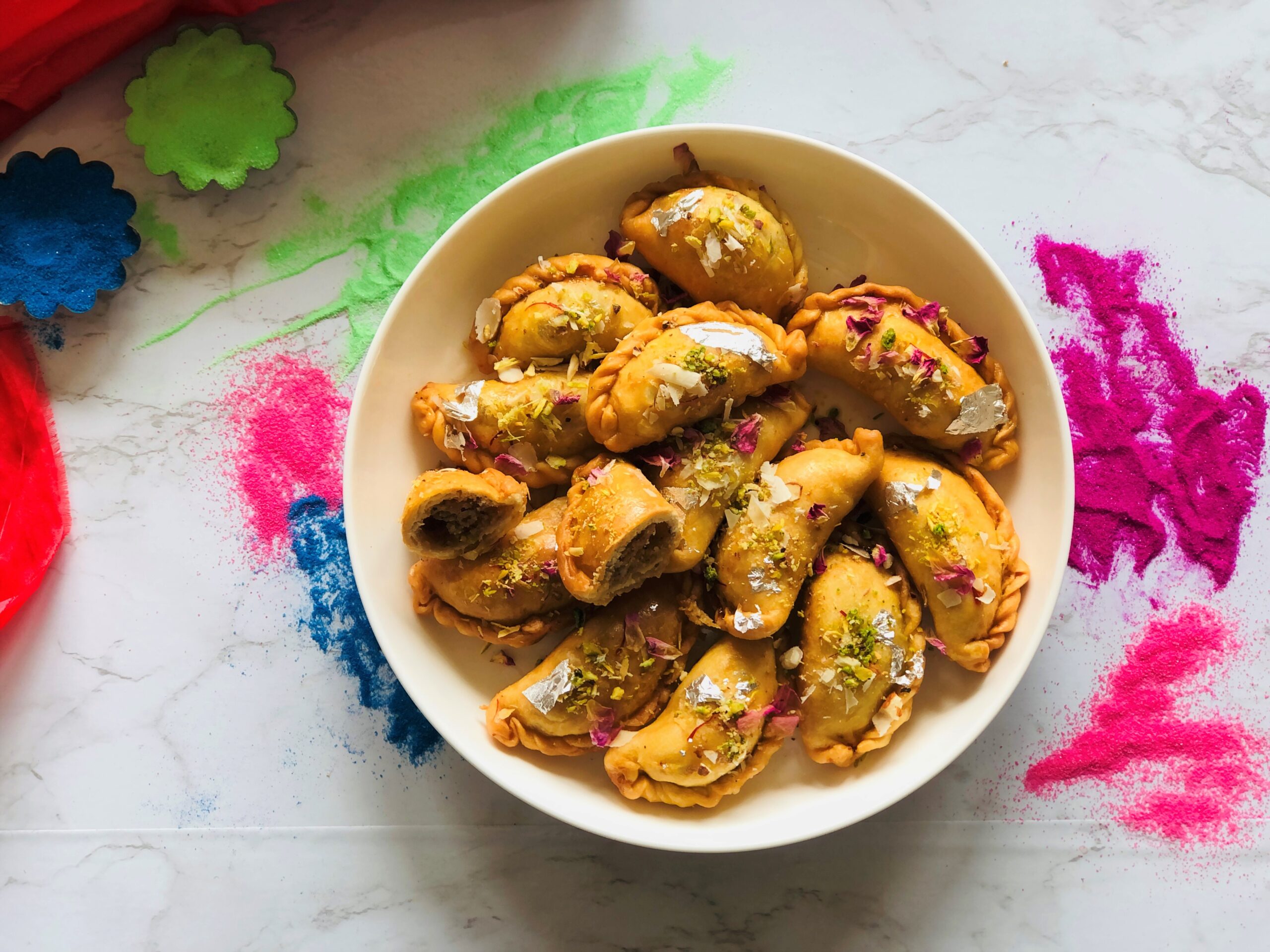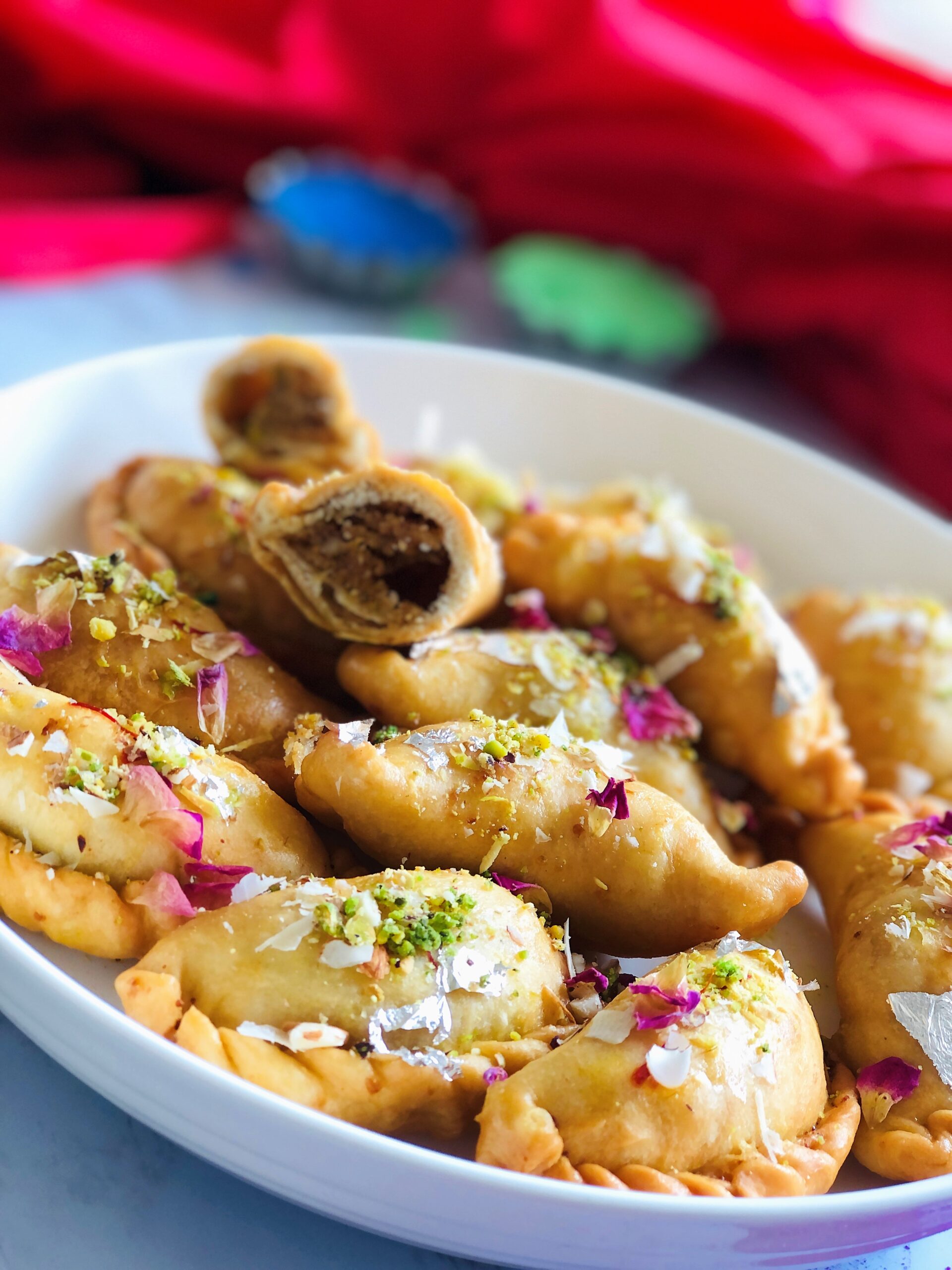 Ingredients
Dough
2 cups all purpose flour also known as maida
4 tablespoons ghee melted
Milk or Water to knead the dough, around 3/4 cup
Filling
2 tablespoons chironji (or charoli)
4-5 tablespoons finely chopped nuts like almond, cashew and Pistachio
1/3 cup desiccated coconut powder
1.5 cups grated mawa/khoya milk solids
1/2 cup fine sugar
1/2 teaspoon cardamom powder
oil for frying
2 tablespoon water, to seal the gujiya
Optional
for sugar syrup:
1 cup sugar
1/2 cup water
few thread saffron / kesar
¼ tsp cardamom powder
Instructions
Make the dough
Take flour in a large bowl. Add melted ghee to flour. Mix ghee with the flour using your fingers.
Start adding milk little by little and knead to form a slightly stiff dough.
Cover the dough with a damp cloth and let it rest for 30 to 45 minutes.
Make the filling
Take the pan add coconut and roast for 2 minutes until lightly fragrant. Transfer to a bowl.
Now to the same pan, add grated mawa. Lower the heat to low and roast for 5 to 6 minutes until mawa turns light golden in color.
Transfer the mawa to a large bowl. Let it cool down a little. Then mix in the nuts, chironji (or charoli), coconut powder, sugar and cardamom powder.
Filling is ready.
Make the gujiya
Divide dough into equal balls after it has rested. Keep it covered all the time as you roll each ball one by one.
Meanwhile, also heat oil in a kadai on medium-low heat to fry the gujiyas.
Roll each ball into a small circle of 5 to 6 inch diameter.
Place it on top of the gujiya mold. Apply water all around.
Fill 1 tablespoon filling inside, do not overfill
Press the two ends together to seal the gujiya mold. Remove the excess dough from the sides.
Make all gujiyas in a similar way. Keep the excess removed dough in one place and use it to make more gujiyas later.
Alternately you can make a pleated design at the edges. Just keep on folding and twisting the edges till the end.
Keep all gujiyas covered all time with a damp cloth/paper towel so that they don't dry out before frying.
Once the gujiyas are filled and oil is hot enough, fry them on medium-low heat until light golden brown in color, be patient, only fry on low heat.
Fry all gujiya similarly. cool the gujiya , and then drop into the prepared sugar syrup..coat the sugar syrup on both sides and rest for 5 minutes.
finally, enjoy chasni wali gujiya immediately or cool completely before storing in an airtight container
Optional
for sugar syrup:
If you want, you can dip Gujiyas in sugar syrup. You can make a 1 string consistency sugar syrup and do it.