These taco cups are the perfect appetizer or fun twist on taco night! Layers of seasoned bean and cheese are baked in layers of Tortilla in a cupcake pan, then finished off with your favorite taco toppings. How cute are these taco cups? They're as much fun to make as they are to eat, and make a delicious and hearty snack for any occasion.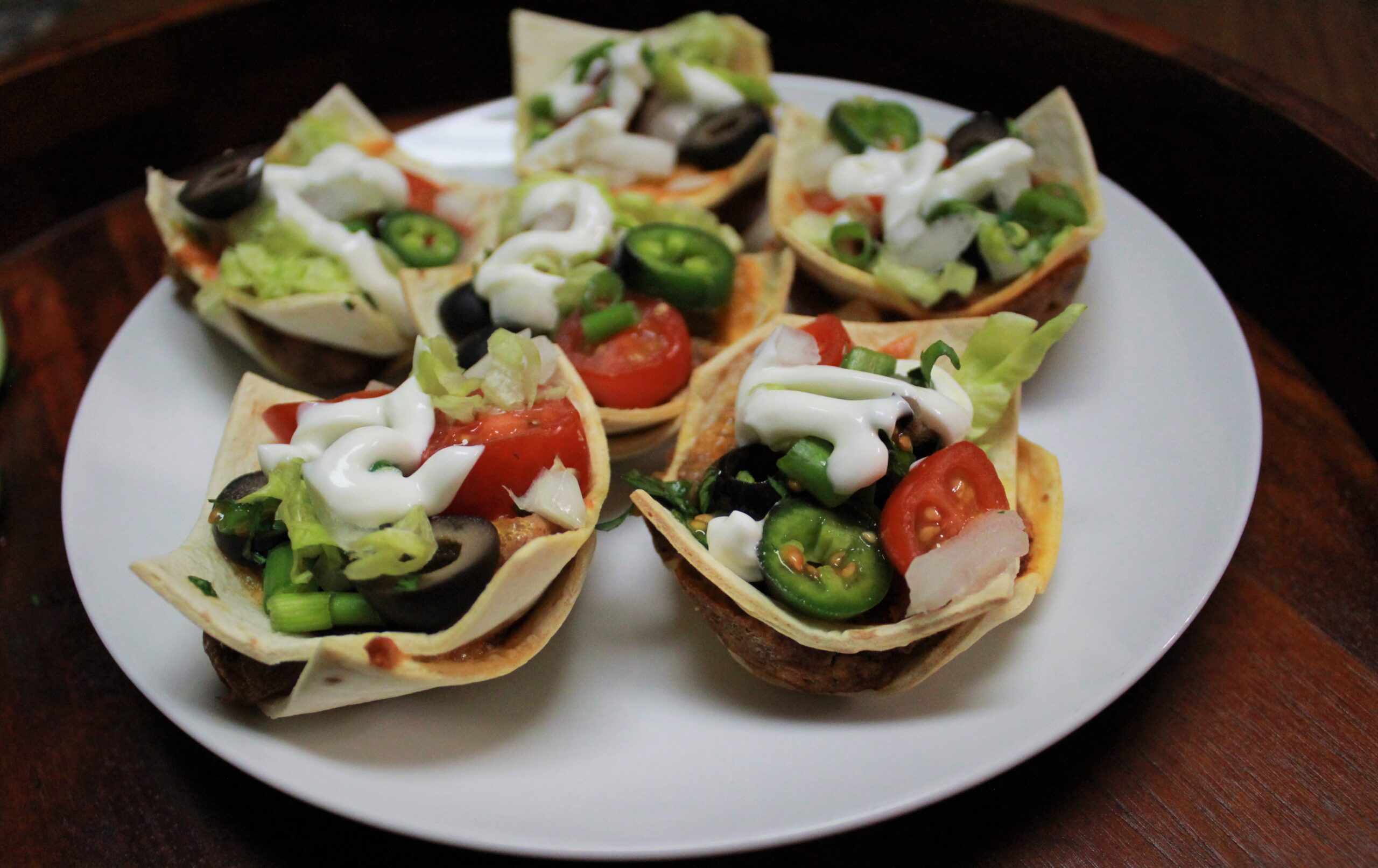 INGREDIENTS
2 teaspoons olive oil
1 cup boiled or mashed pinto bean or Kidney bean
1 tablespoons taco seasoning
1/4 cup diced fresh tomatoes
1 tablespoons chopped green chilli
4 tortilla
salt to taste
1 small chopped avocado
1 cups shredded cheddar cheese
1/2 cup sour cream
1/4 cup chopped lettuce
2 tablespoon chopped coriander leaves
INSTRUCTIONS
Preheat the oven to 350 degrees. Heat the olive oil in a large pan over medium high heat.
Add the taco seasoning to the pan, add the beans pan. Cook for 3-4 minutes.Switch of the gas.
Add tomatoes, green chili and salt to taste. You may not need to add salt if your brand of taco seasoning already contains salt.
Take all the tortillas and cut into square pieces.
Place one tortilla square into the bottom of each muffin cup.
Spoon approximately 1 tablespoon of bean into each cup and top with approximately 2 teaspoons of cheese.
Place a second tortilla layer on top of the cheese, then repeat with a bean and cheese layer. add the remaining bean and cheese across all the muffin cups.
Bake for 10-15 minutes or until edges are browned and cheese is melted.
Top each taco cup with a chopped avocado, sour cream and a sprinkle of lettuce , coriander leaves and tomato, then serve.
Notes: you can use any kind of canned beans.