This is the best Tandoori Paneer Tikka in the oven you'll ever make at home! Same restaurant style taste, but roasted in a homeoven.One of my most favourite meals in the world is Restaurant-Style Paneer Tikka. You can serve this paneer tikka with lemon wedges, salad and mint and coriander chutney, just delicious!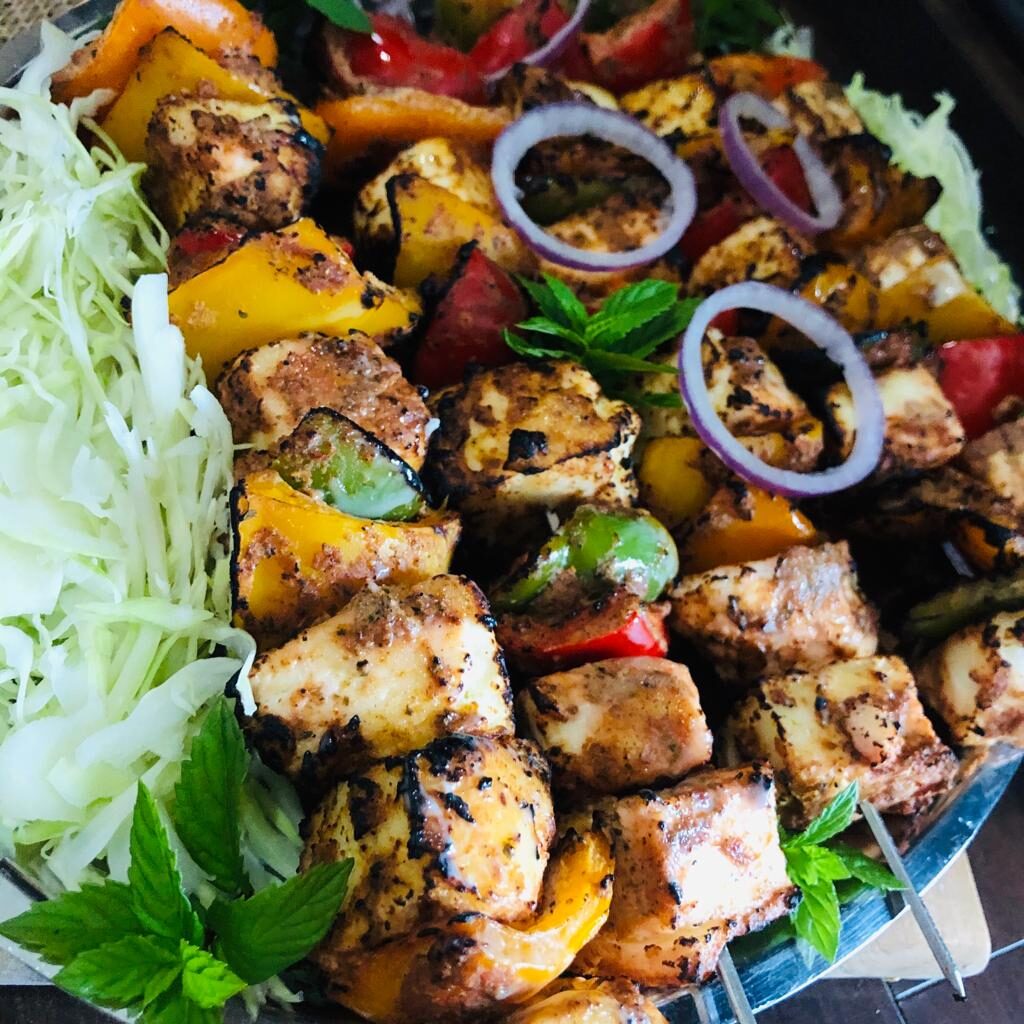 Equipment
6 large metal kebab skewers (if using wooden skewers, soak in cold water for 1 hour prior to skewering the paneer)
Ingredients
For the Paneer Tikka
2 cups Paneer cut into 1 inch cubes (Cottage Cheese)
1 Onion cut into 1 inch cubes (medium sized)
2 Capsicum deseeded and cut into 1 inch cubes
For the Marinade
3 tablespoons Mustard Oil
1 teaspoon Garlic Paste
1 teaspoon Ginger Paste
1/2 cup Thick Curds or Greek Yogurt
2 teaspoons Kashmiri Red Chilli Powder or Paprika
1 tablespoon Coriander Powder
1 teaspoon Chaat Masala Powder available at Asian/Indian stores
2 tbsp roasted chickpea flour
1/2 teaspoon black pepper powder
1 tsp roasted cumin powder
2 tsp lemon juice
1/2 teaspoon Garam Masala Powder
1 teaspoon kasuri methi crushed
Salt to taste
For serving:
Green coriander chutney
Chaat masala powder
Lemon wedges
Onion slices
Instructions
Mix all the ingredients under marinade into a bowl and add paneer to it. Toss the paneer in the marinade till the cubes are coated well. Cover and set aside for at least half an hour or up to two hours.
Pre-heat oven to 200 C/ 400 F 10 minutes before ready to cook. Skewer paneer cubes alternating with onions and capsicum. This should make about 3-4 skewers.
Set a metal wire rack on top of a baking tray and arrange the skewers on top. Bake for 10 minutes if proceeding to the next step, or 15 minutes if skipping the next step.
Optional: Once out of the oven, hold each skewer over a direct flame on your gas burner
Carefully remove the roasting pan with the skewers out of the oven (the paneer tends to become really soft so be careful) and place the skewers on your serving platter. Top with chat masala and squeeze lime juice on them. Serve immediately with sliced onions and chutney.
Notes
Make sure the paneer you are using is firm and not crumbly
If the curds you are using are not thick enough, hang them in a muslin cloth for half an hour or so to remove whey and then use.