Easy No Bake Mango Cheesecake is one of the best classic summer dessert recipes to enjoy mangoes.It makes an amazing presentation and tastes just as grate as it looks. The egg-less recipe is delicious and can be enjoyed by just about everyone.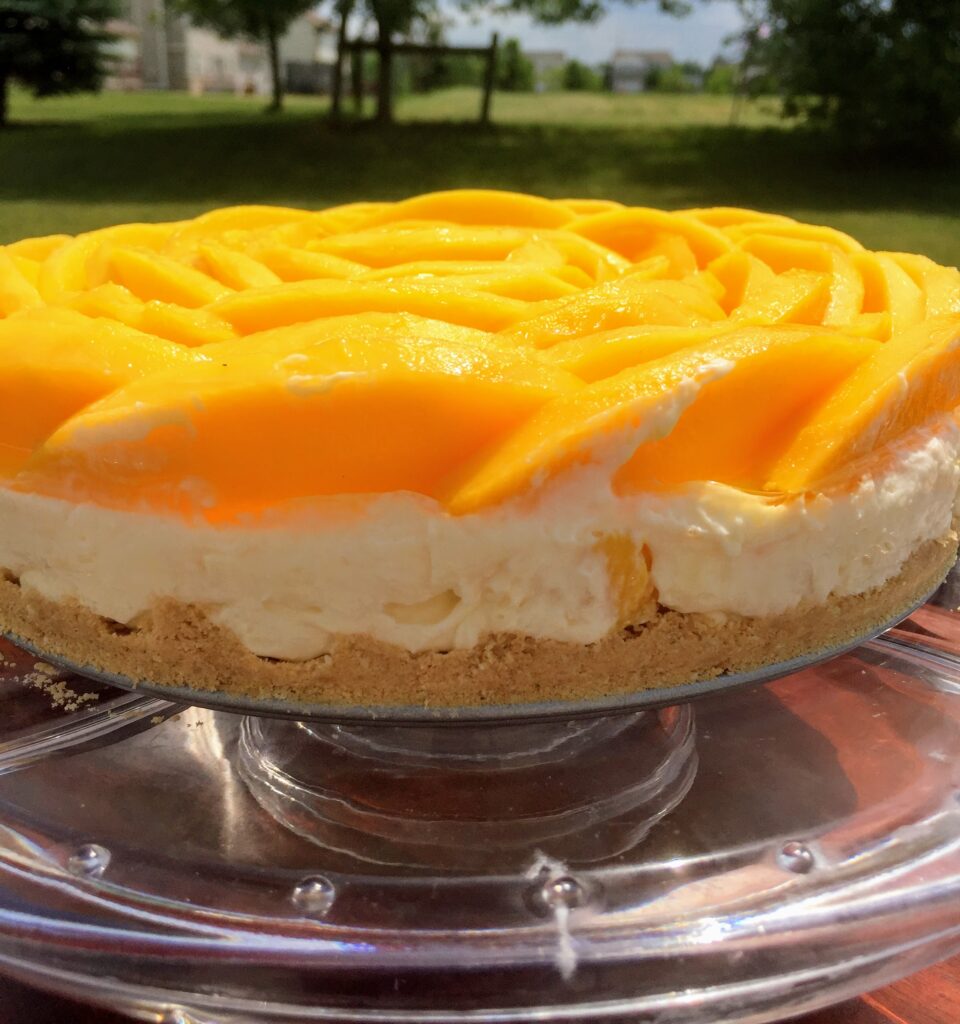 Ingredients
8 Inch Loose Bottom Pan (Springform Cake Pan)
For the crust:
• 1 ½ cup Crushed Digestive Biscuits or Graham Crackers Crumbs
• 4 tablespoons butter, melted
For the cheese cake layer:
• 1 cup chopped mango
• 200 grams whipping cream, chilled
• 200 grams cream cheese
• 70 grams (1/3 cup) granulated sugar
• 1 tbsp lemon juice
• 10 grams (5 teaspoon) agar agar powder (you can also use the same amount of gelatin powder)
• 2 tablespoons cold water + hot water
• 1 teaspoon lemon zest
FOR DECORATION:
Mango slices
HOW TO MAKE CRUST:
Line a springform pan/tin with the parchment paper. Keep it aside.
Put cookies into a ziplock bag and crush with a rolling pin until it resembles coarse crumbs. Alternatively, you can also process them in a food processor. Add the melted butter and mix well until combined.
Next, pour cookie crumbs mixture into the prepared cake pan. Press the crumb tightly using hand plum or flat bottom of the cup and make a plain surface.
Once the crust is ready, place the pan in the refrigerator for 1 hour to let the crust set.
HOW TO MAKE CHEESECAKE LAYER:
Add agar agar powder to a small bowl. Then ad 2 tablespoons of cold water to it and mix well.
Let it sit for 5 minutes. After 5 minutes, mix it with the spoon.
Then add some hot water to a large mixing bowl and place the agar agar mixture bowl over it.
Mix well until the mixture is melted. Keep is aside.
Add cream cheese, whipping cream, sugar, and agar agar mixture to a blender and mix until smooth and creamy.
Gently fold mango piece into the cheese cake mixture.
Pour the cheesecake mixture onto the crust and refrigerate for 2 hours.
After 2 hours prepare mango jelly as per packet instruction and pour over the mango layer.
Place the cake pan again into the fridge for 6-7 hour or overnight till solidified.
No bake egg-less mango cheesecake is ready, loosen edges of the cake spring.
Transfer cake to a serving dish, garnish it with sliced mango over the top, cut into slices and serve chilled.