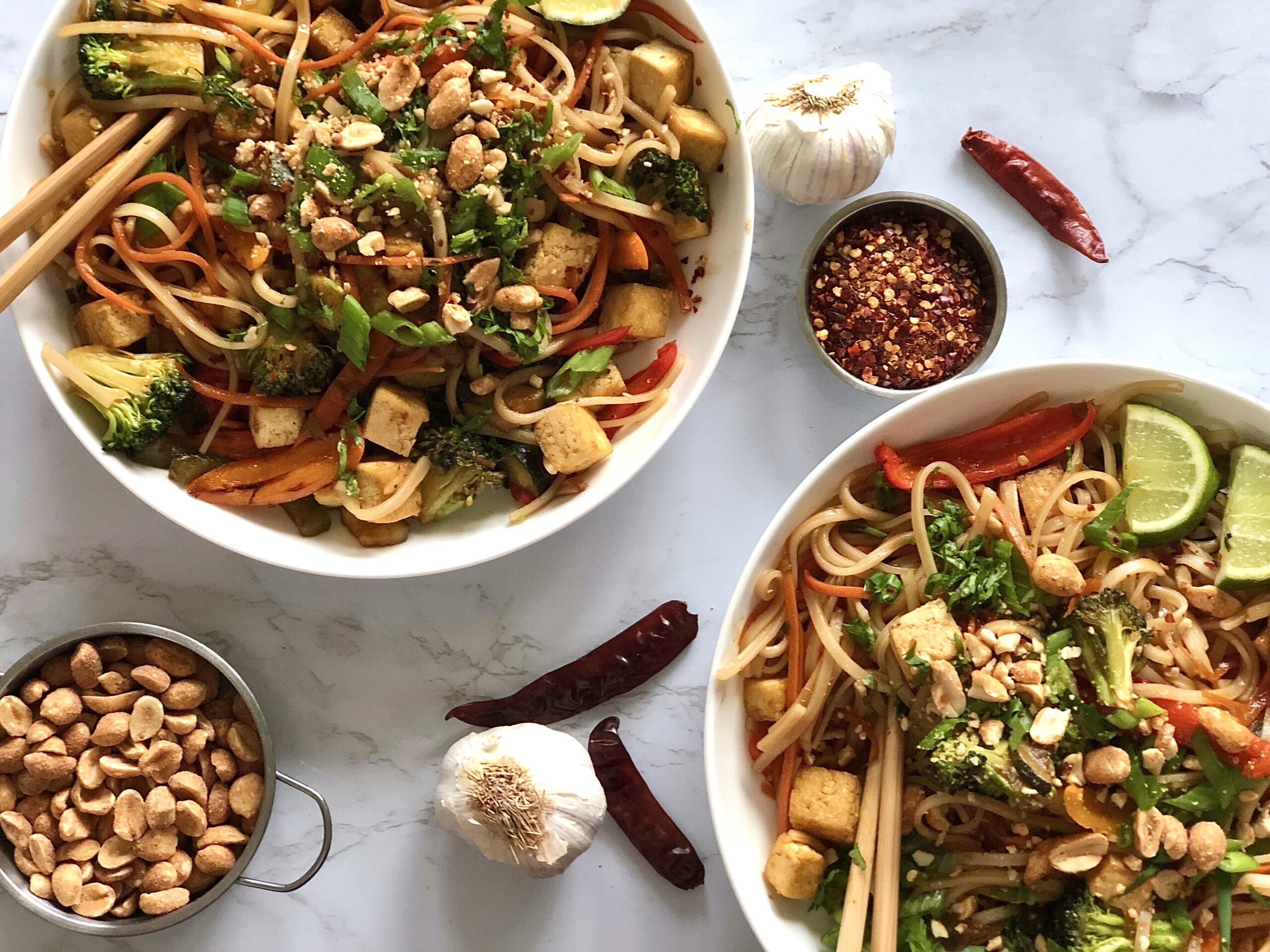 Pad Thai is a classic dish for either take-out or dine-in at Thai restaurants. Luckily, for home cooks, there's no big mystery to what makes a good pad Thai—there's a little bit of prep ahead of time, but it's not hard to pull off at home. This homemade Pad Thai recipe is easy to make, tossed with a fresh and sweet and tangy sauce, and customizable with whatever protein, veggies, and spice level you prefer. This simple plant-based version of Pad Thai takes just 30-minutes to prepare.
Ingredients
8 oz rice noodles
8 oz extra-firm tofu, pressed and cut into 1/2 inch cubes
3 tablespoons sesame oil or peanut oil (can use olive oil if you don't have)
4 cups of veggies (broccoli, bell pepper, carrots, zucchini)
2 cloves garlic
1/2 cup bean sprouts (optional)
2 green onions, finely chopped
Salt (To taste)
For the Pad Thai Sauce
1/2 cup Veg Stock
3 tbsp Soy Sauce
3 tbsp Brown sugar
1 tsp Tamarind Paste
1-3 teaspoons chili garlic sauce, Sriracha, or hot sauce of choice
For Serving
2 limes, cut into wedges
1/2 cup cilantro, chopped
1/2 cup crushed or chopped peanuts
2 tablespoon green onion chopped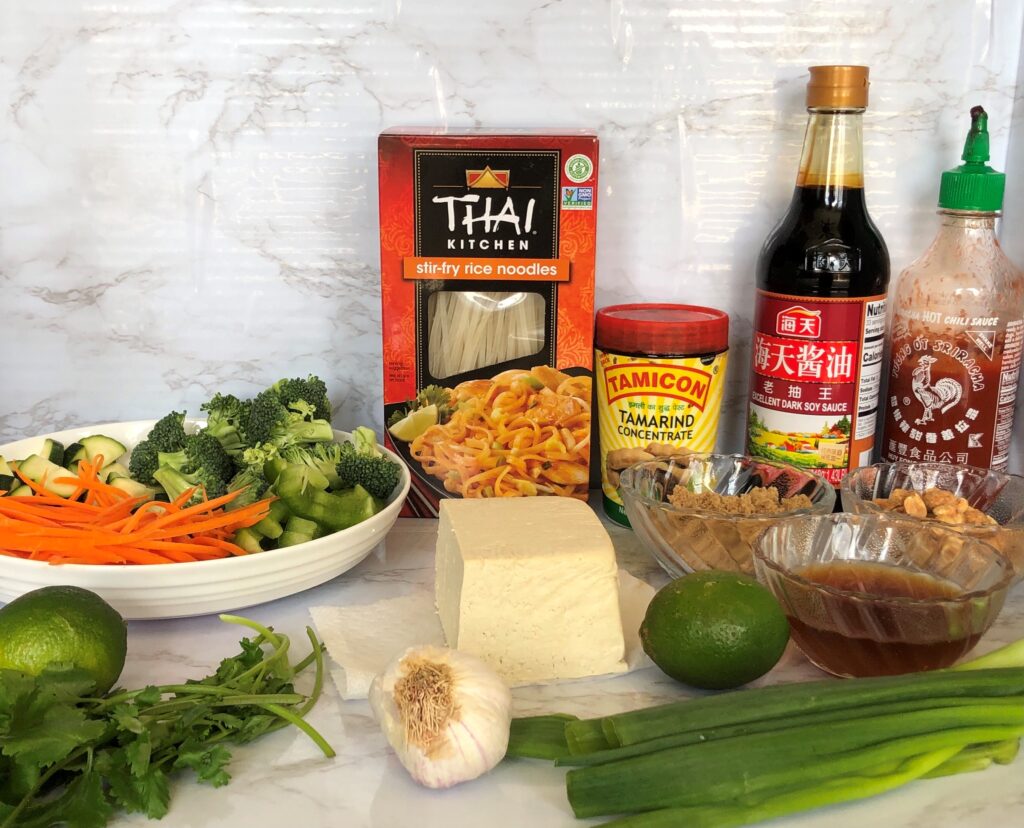 Instructions
Heat up water in a medium pot and cook rice noodles according to package instructions. Drain and set aside.
Tofu is packaged in a bit of liquid. Dump the liquid out, put the tofu block on a cutting board, and wrap it with a kitchen towel or a doubled-up layer of paper towels.
Using your hands, gently press out some of the extra liquid into the towel. This will ensure that the tofu is as dry as possible when you put it in a hot pan, which means it will brown nicely and get a little crispy on the outside. You can leave it wrapped in a towel while you set about preparing the other ingredients.
Meanwhile mix together all sauce ingredients and set aside.
Add 2 tablespoon sesame oil (or whatever oil you are using) to a large pan or wok over medium-high heat. Add onions and cook until translucent, 3-5 minutes. Add garlic and choice of veggies, and cook for an additional 5 minutes. Add bean sprouts and fry for a minute.
Once the tofu feels like it's released as much water, slice it vertically into strips about 1/2-inch to an inch wide—and then cut those strips into smaller chunks of about the same size so they cook evenly.
Add 1 tablespoon oil in another pan and stir fry tofu cubes.
Combine tofu with veggies and add rice noodles.
Top with sauce until fully coated. Cook in sauce for about 2 minutes or until noodles have absorbed most of the sauce.
Garnish with roasted peanuts, coriander, green onion and lemon wedges.
Serve immediately or store in an airtight container in the fridge for up to 2-3 days.