Chaat is one word for a variety of Indian street food that is served  all across the country. There are so many different types of chaat available – Pani Puri, Bhel Puri, Sev Puri, Masala Puri etc.Shakarkandi chaat is a delicious sweet and tangy street food of sweet potatoes. This spicy and tangy Sweet Potato Chaat is inspired from Aloo Chaat.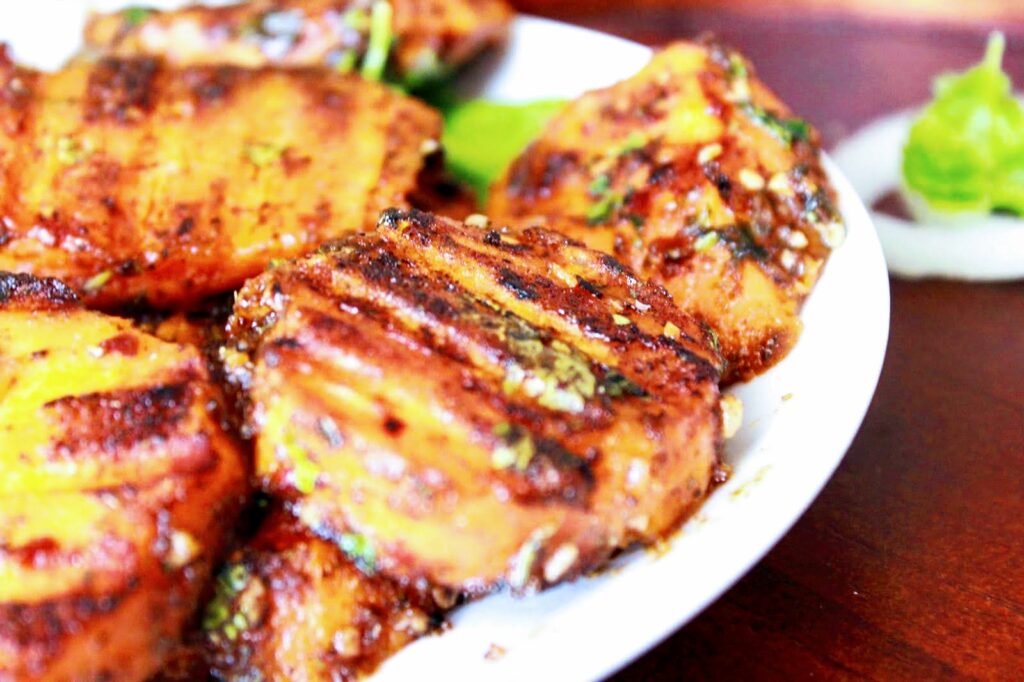 Ingredients
3 large Sweet Potato
3-4 Cloves Garlic finely chopped
2-3 Tbsp Tamarind Date Chutney
3-4 Tbsp Mint leaves finely chopped
2-3 Tbsp Coriander Leaves finely chopped
1/2 tsp black pepper powder
2 tsp Red Chilli flakes
1 tbsp Oil
2-3 tsp Lime Juice
2 tsp Chaat masala
2 tsp Roasted Cumin powder to taste
1 tsp Black salt to taste
1 tbsp Olive oil for grilling
Salt to taste
Instruction
1.In a mixing bowl, add olive oil, garlic, red chilli flakes, tamarind chutney, black salt, chat masala, cumin powder, lemon juice, freshly chopped mint and coriander leaves and salt & pepper to taste, mix well and coat the sliced sweet potatoes.
2. Set a grill pan on medium heat, add olive oil and grill the coated sweet potatoes on both sides until crisp and golden brown. Your Chatpati shakarkandi is ready to be served.