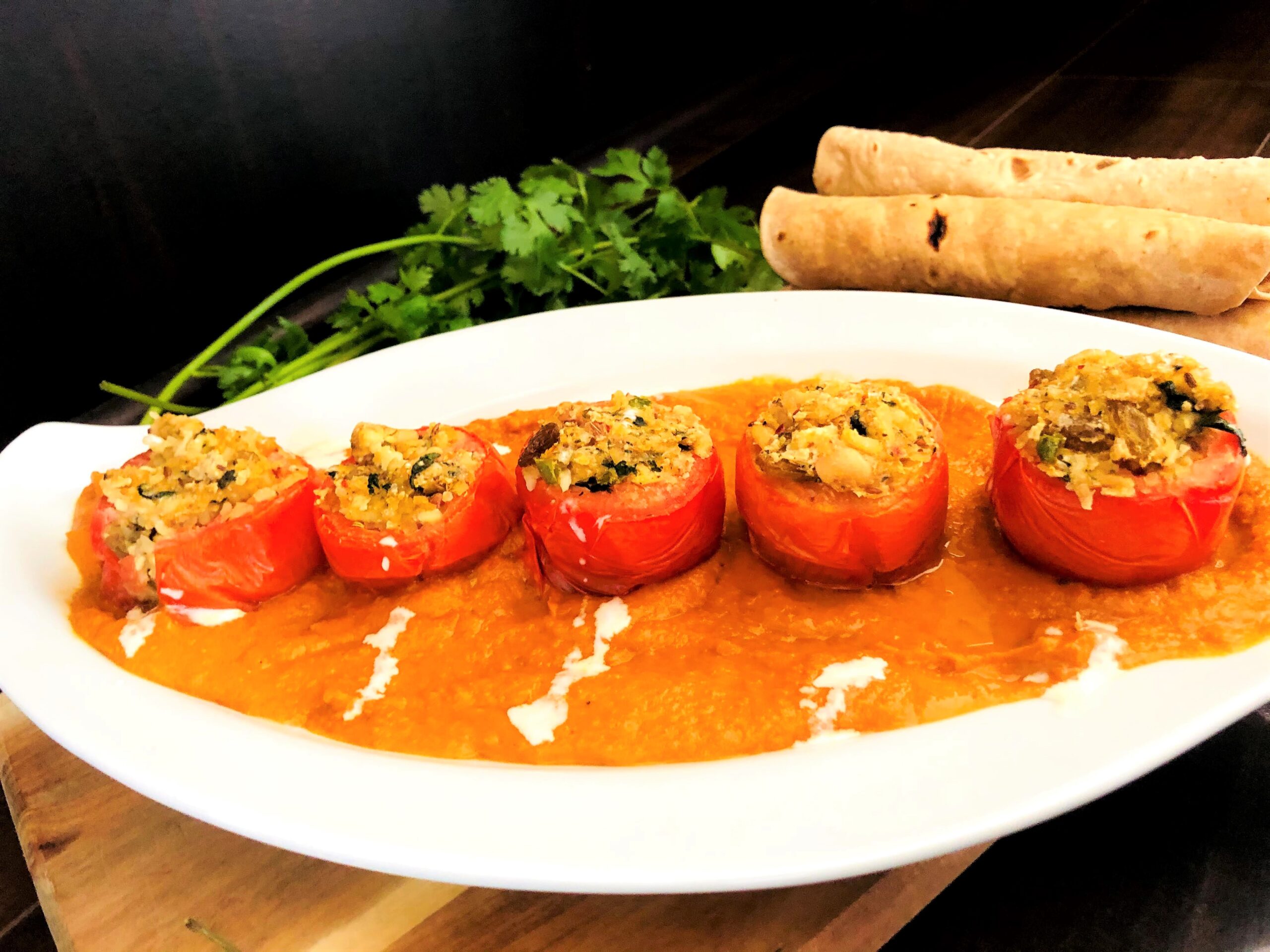 Looking for an easy yet fancy recipe to impress guests at home? Stuffed Tomato is a perfect party recipe as it won't take much of your time and effort. This is an amazingly delicious dish that can be enjoyed on special occasions and is sure to be a crowd pleaser. Not only does it taste delicious, but it also looks rich and colorful. Stuffed Tomatoes can be enjoyed along with any Indian flat bread like roti, paratha or poori and can even be served with rice or pulao.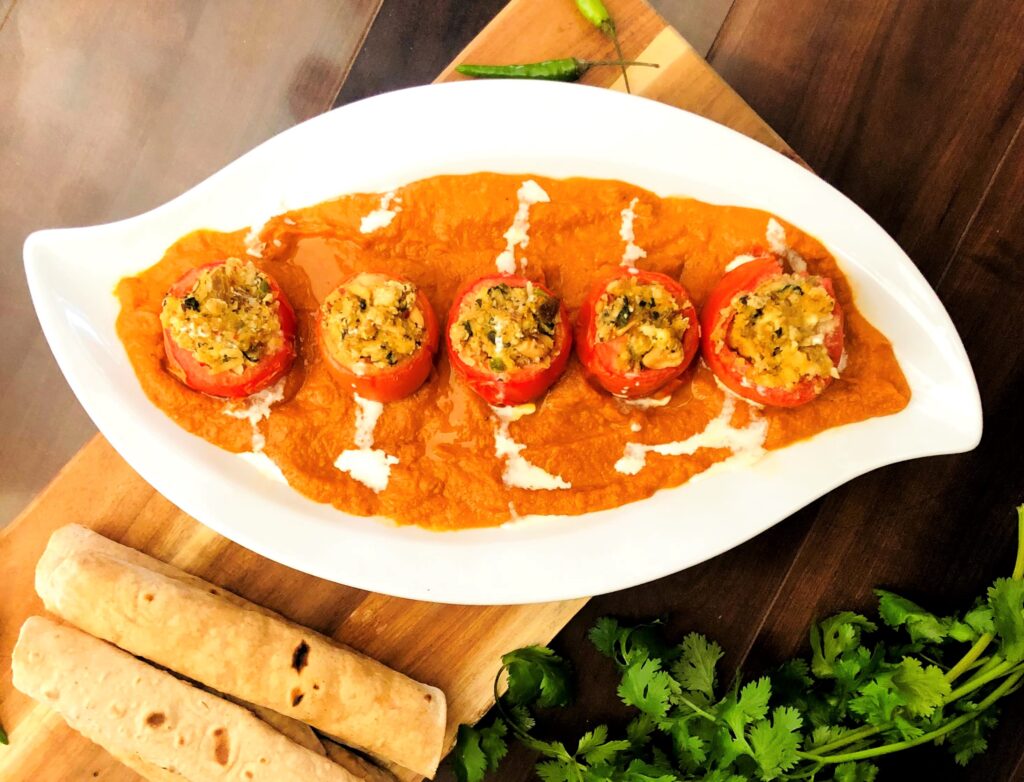 Ingredients
6 Tomatoes
1 tsp Oil
½ tsp Salt
For the filling
½ cup Potato (Boiled, peeled and grated)
 ½ cup  Peas (Boiled)
 ½ cup  Paneer (Grated)
Salt to taste
8-10 Raisins
4-5 Cashew nuts (Broken)
2 tbsp Coriander (Chopped)
1 Green chili (Chopped)
½ tsp Garam masala powder
For the gravy
3 tbsp Ghee or oil
1 and ½ Onion finely chopped
2 tsp Ginger garlic paste
2-3 Green chili (chopped)
2 tsp Coriander powder
½ tsp Red chili powder
½ tsp Turmeric powder
1 tsp Garam masala powder
2 tsp Dry fenugreek leaves 
Salt to taste
1 tsp Honey
4 tbsp Fresh cream
Instructions
For the filling
Mix all the ingredients in a bowl.
For the tomatoes
Remove the top of the tomatoes and scoop the flesh from inside.
Puree the pulp in a blender.
Pre heat the oven to 180 degrees C.
Mix oil and salt in a bowl and apply it on the skin of the tomatoes.
Fill the tomatoes with the filling and bake for 10-12 minutes.
Remove from the oven and serve on top of the gravy.
For the gravy
Heat ghee in a pan.
When the ghee is hot, Add onion and fry for 3-4 minutes.
Add ginger garlic paste and fry till onion turns golden brown.
Add tomato puree that we made from the tomato pulp and green chili and cook for a minute.
Add coriander powder, red chili powder, turmeric powder, garam masala powder, Dry fenugreek leaves and salt and cook for 5 minutes.
Add  honey and ½ cup water and cook for a minute.
Add cream and cook for another minute.
Transfer the gravy in the serving platter.
Keep the stuffed tomatoes on top.
Garnish with fresh coriander.
Serve hot with paratha or naan.