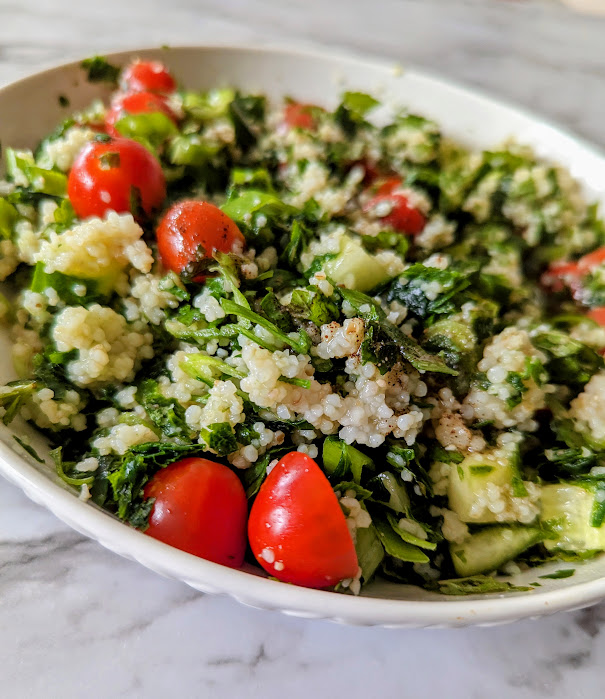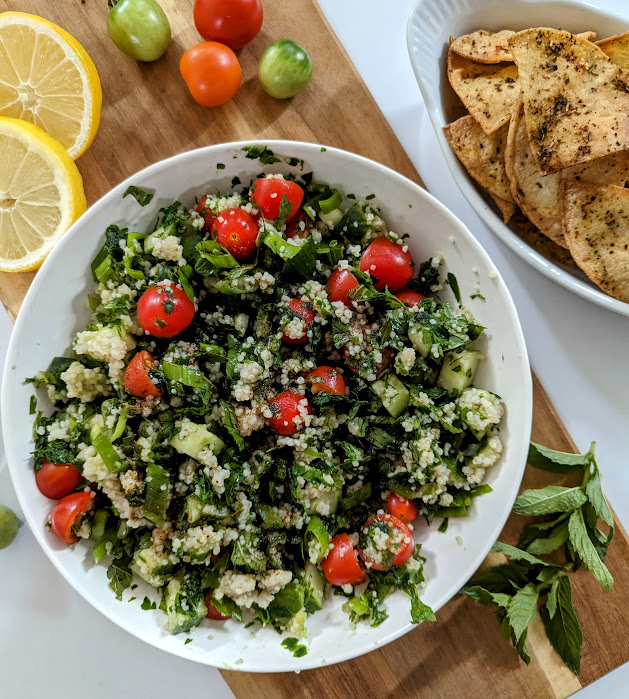 Tabbouleh salad, popular throughout the Middle East, has roots in Lebanese cooking. The classic Middle Eastern salad shifts from bulgur wheat to quinoa. The inclusion of quinoa also gives the salad a boost of protein, making this dish both a delicious vegetarian main course and a summer-suitable side. This is a vibrant, fresh-tasting, healthy salad which is easily made.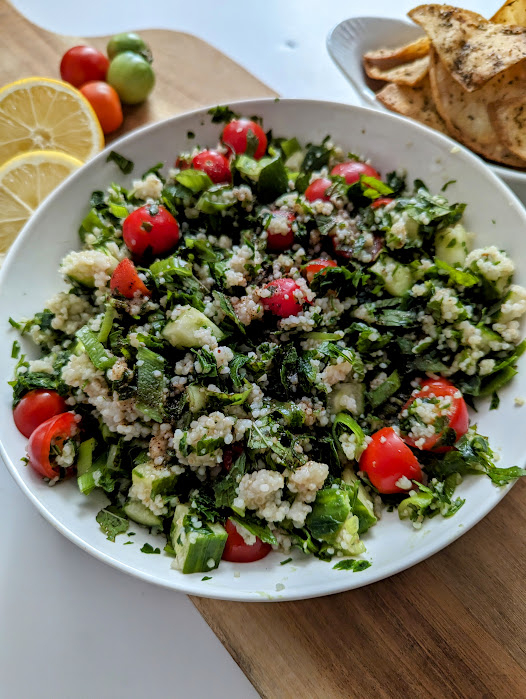 Ingredients
1/2 cup dry quinoa
1 cups water (or vegetable broth)
1/2 teaspoon salt
1 tablespoon oil
1 cup chopped tomatoes
1 cup chopped cucumbers
2 cup chopped parsley
1/4 cup chopped fresh mint
1/2 cup green onions (scallions), finely chopped
Salad Dressing
2 tablespoons olive oil
2 tablespoons lemon juice
Salt + Pepper to taste
Instructions
Rinse the quinoa using a fine mesh strainer, then drain it completely.
Place it in a saucepan with 1 cup water or vegetable broth, oil and ¼ teaspoon salt. Bring to a boil, then reduce the heat to low. cover, and allow the quinoa to cook for about 15 minutes, or until the quinoa is cooked and most of the liquid has been absorbed. Fluff a few times with a fork. Set aside.
Add quinoa, tomatoes, green onion, cucumbers and fresh herbs into a large bowl.
In a separate bowl, whisk together oil, lemon, salt and pepper. Pour dressing over salad ingredients and toss to combine.
Serve room temperature or cold. Serve it on its own as a side dish or with pita chips as a appetizer.