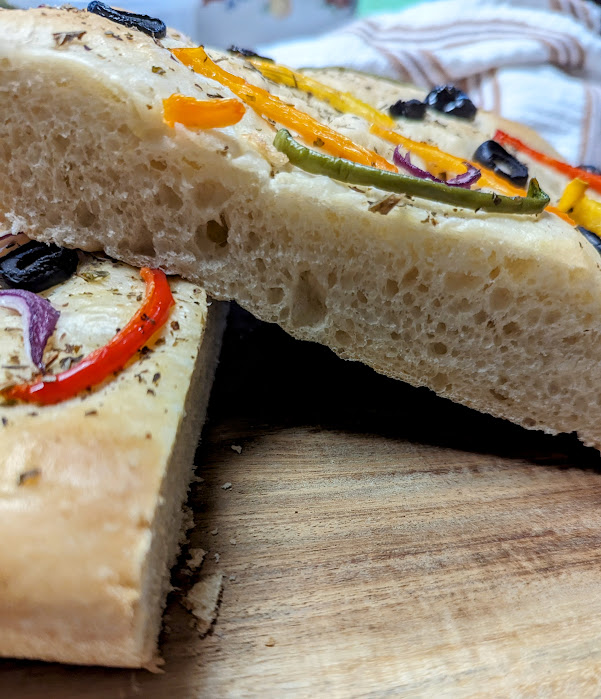 Focaccia is our favorite yeast bread to make at home. Focaccia bread can be topped with anything: olives, caramelized onions, herbs, sun-dried tomatoes or peppers. Today, I am sharing a simple focaccia bread recipe. It has a crisp outside and soft inside, and is perfect to serve with dinner, soups, stews, or even sliced in half and used for sandwiches.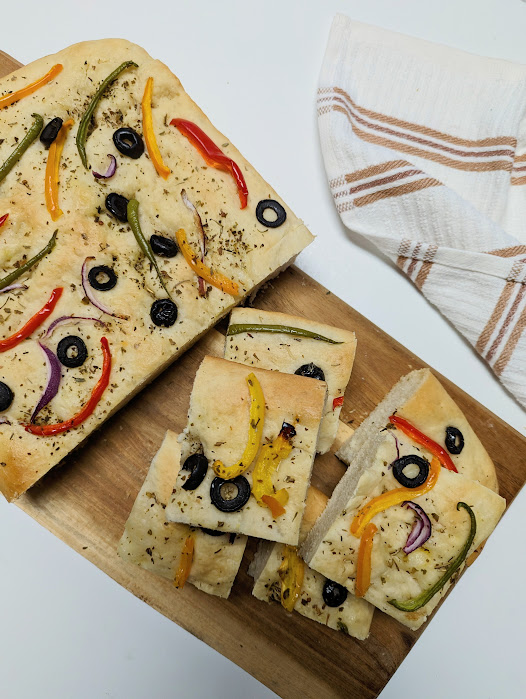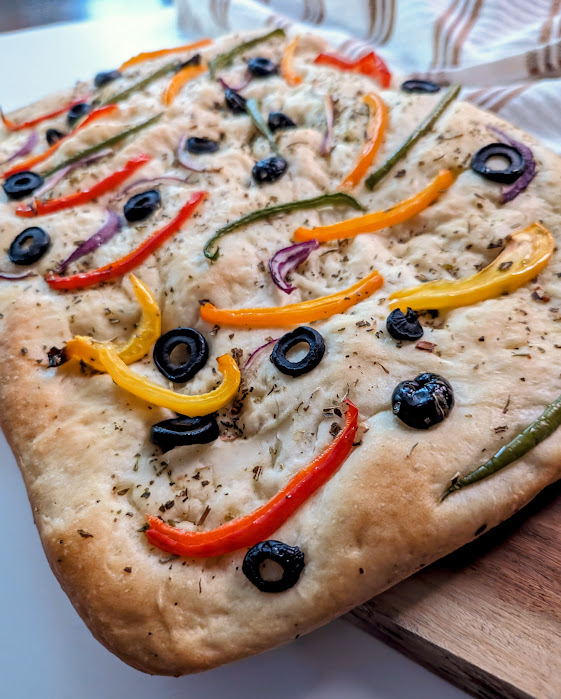 Ingredients
For the dough
2 cups all purpose flour
1 cup warm water
1 tsp salt
1.5 tsp Instant yeast/active dried yeast
1 tbsp. sugar
2 tbsp. Olive Oil
For the Topping
onion sliced
Black olive sliced
Bell Pepper/Capsicum sliced
Italian seasoning or finely chopped fresh herbs
olive oil
Instructions
Mix all the dry ingredients in a large mixing bowl.
Make a well in the center and pour the water into it and bind it into a sticky dough. Now you will see the dough leave your hands and become smooth. Knead for 10 minutes more till nice and elastic.
Grease a bowl with Oil and put the kneaded dough into the bowl.
Cover and place in a warm place till risen and doubled in volume.
Punch dough and place on a greased 9×13 baking tray. Using your fingers, push and press the dough from center to out into a rectangle.
Cover with a kitchen towel and leave to rise for another 30 to 40 minutes.
With the fingertips, dimple the top of each focaccia. Drizzle olive oil over the top. Sprinkle herbs and press down tomato, olive and pepper slices / halves evenly across the top. Let it sit for 15 minutes. In the meantime, preheat the oven to 190 degrees C. or 374 Fahrenheit
Bake for 20 to 25 minutes until brown.
Cool on the rack.