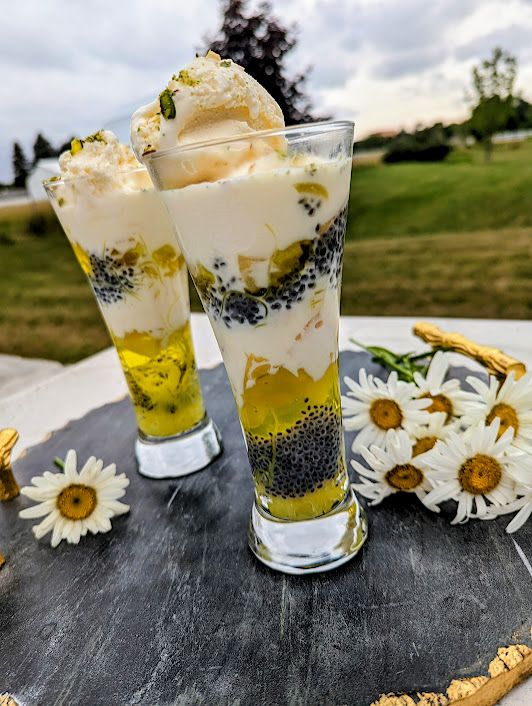 Falooda is the ultimate Indian summertime treat. Cool and refreshing, this exotic dessert drink with layers of jello, sweet basil seeds, vermicelli, creamy milk, ice cream, fruits and nuts will quench your sweet desires, leaving you thirsting for more.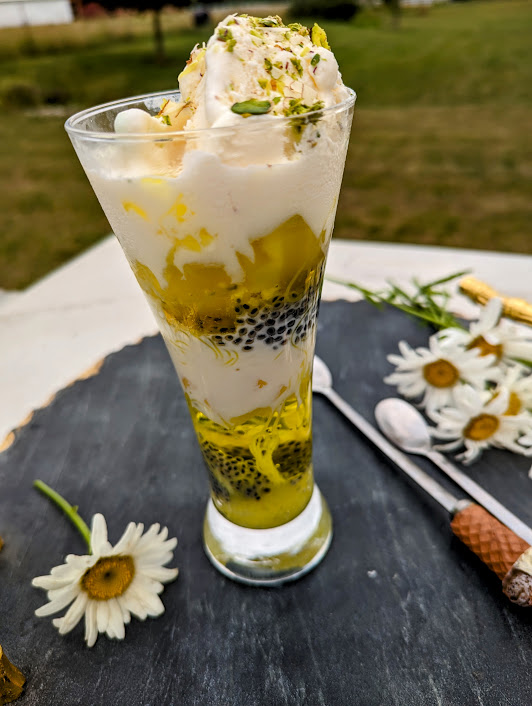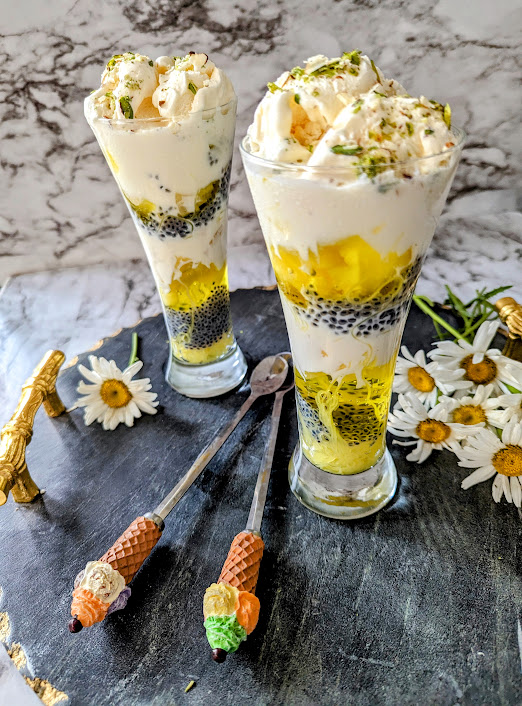 EQUIPMENT
Tall Glasses
Straws
Long Spoons
INGREDIENTS
1 tablespoon basil seeds
½ cup water
½ pack falooda sev or Vermicelli available in Indian grocery stores
2 cup Milk
1/2 cup sugar
1/2 tsp Pineapple essence
¾ Cup Pineapple Jelly, divided
4 Scoops Vanilla Ice-cream, divided
½ Cup Chopped Pineapple , divided
for Garnish (optional):
3 pc Fresh Cherries
chopped nuts
Instructions
Soaking the Basil seeds:
Place the seeds in a fine strainer and rinse them under running water
Transfer to a big enough bowl. Add water and let them soak for atleast 20 minutes
Just before assembling the falooda, strain the excess water(if there is any) from the seeds and set aside
Preparing the Vermicelli:
Follow the packet instructions.
As instructed on the packet I bought, I soaked the vermicelli in hot water for 5 minutes
Drain the excess water and let the vermicelli cool to room temperature
Transfer to an air-tight container and refrigerate until you start assembling the falooda.
Making Pineapple rabri
Take whole milk in a thick bottomed kadai or pan and begun to heat the milk on a low to medium heat. Stir a couple of time when the milk is getting heated.
Add sugar. cook till reduce to half quantity.
Add Pineapple essence
Assembling the falooda:
Before assembling, keep all the ingredients, garnishes, straws and spoons ready at hand.
In a tall glass, first add a couple of spoonful of Pineapple Jelly (Make pineapple jelly as instructed on the packet)
Add couple of spoonful of the bloomed Basil seeds
Follow this with a layer of the Vermicelli
Add pineapple Rabri
Add chopped pineapple pieces
Add two scoops of the VanillaIcecream
Top up with the pineapple Rabri
Garnish with nuts
Insert the straw and Long-Spoon into the Glass. Serve immediately.
FLAVORS FOR FALOODA
ROSE FALOODA: This is a classic falooda flavor. Layers of rose syrup, rose flavored jello or any red jello, vermicelli, basil seeds, thick milk, vanilla or rose ice cream. Top with chopped nuts, rose petals and rose syrup.
MANGO FALOODA: Layers of mango jello, mango puree, vermicelli, basil seeds, thick milk, fresh mango, vanilla ice cream. Top with chopped nuts and tutifruti.
KULFI FALOODA: Stir some drops of saffron water and cardamom with the thick milk. Cut kulfi into bite size pieces and use it instead of ice cream. Layers of vermicelli, basil seeds, thick saffron milk,kulfi, Rose syrup. Top with pistachios and almonds.