Entertaining guests is one of my very favorite things to do. I enjoy serving a variety of finger foods that are easy to much on while chatting. This Easy Spinach Dip Stuffed French Bread is your favorite cheesy dip (with three cheeses!) baked right into the loaf! Crazy delicious side or easy crowd pleasing appetizer!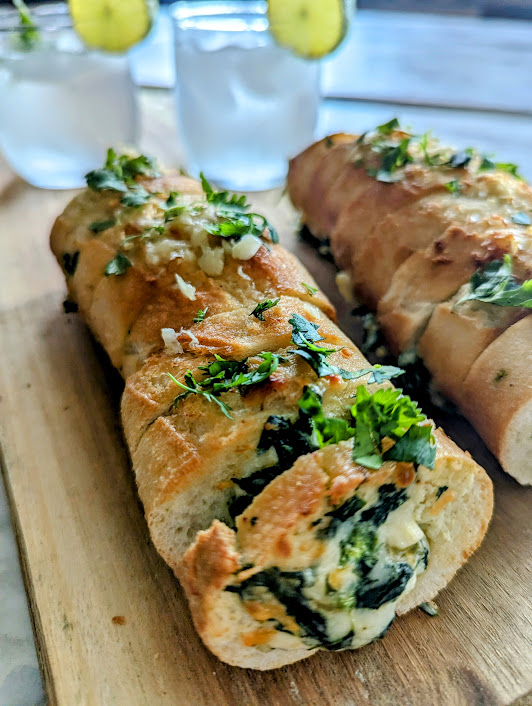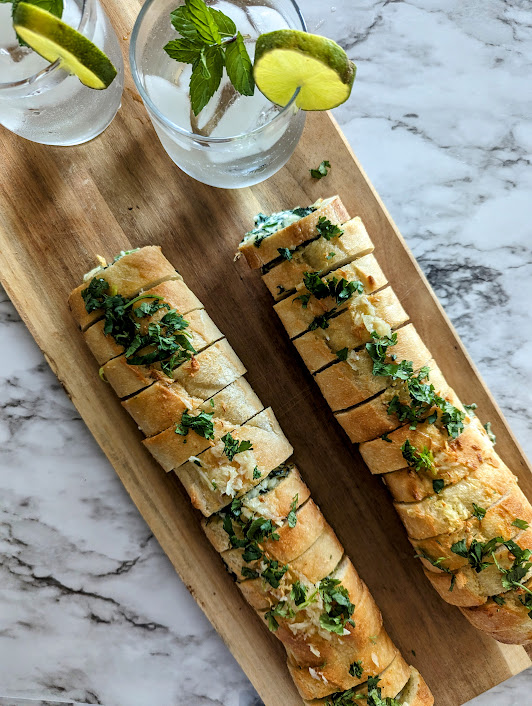 Ingredients
1 French baguette
½ tablespoon oil
4-5 cup spinach leaves
1/2 cup cream cheese
1 cups shredded mozzarella cheese
½ cup feta Cheese
2 green chilies chopped, optional
Salt and pepper, to taste
3 tablespoons butter
1 tbsp. garlic, minced
Fresh basil leaves or parsley, Chopped
Instructions
Cut the baguette into 4 pieces. Use a long knife to cut out the insides, leaving some bread along the edges. Pull out the loose bread to leave hollow bread quarters. Set aside.
Heat the oil in a large pot over medium-high heat. Add in the spinach, and cook until wilted, turning often. Turn off the heat. Let it cool.
Squeeze extra water from spinach.
Mix in the cream cheese, feta and mozzarella, and season with salt and pepper to taste. Preheat the oven to 350 degrees F.
Using a small spoon or piping bag fill each piece of hollowed baguette with the spinach cheese mixture. Line the filled bread pieces on a cutting board and gently cut into slices. Carefully keeping the baguette together, transfer the sliced baguette to a large long piece of foil and apply garlic butter.
Bake for 15-20 minutes.
Remove from the oven, brush the garlic butter over the baguette.
Garnish with torn basil or parsley leaves, and serve warm.