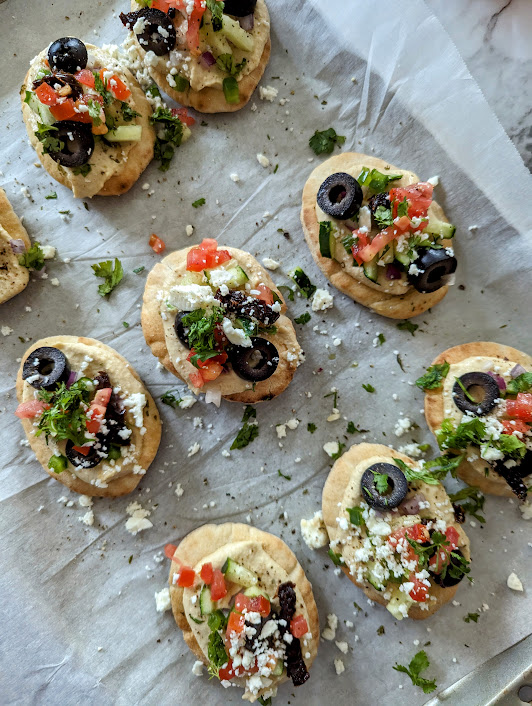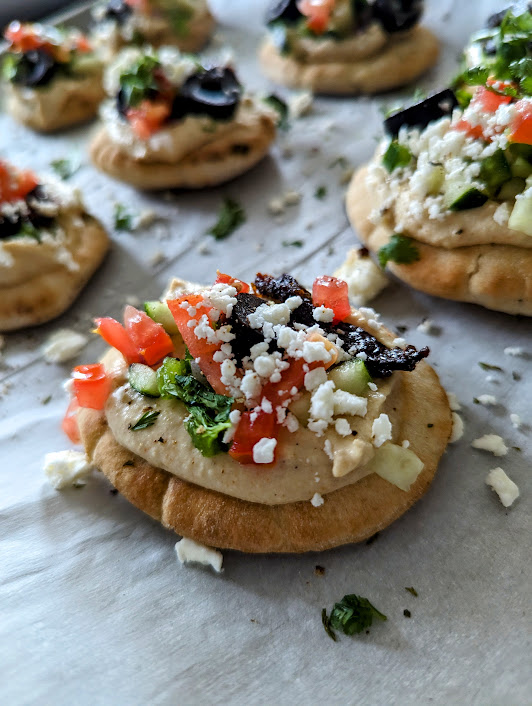 These cute mini pita bites are the perfect healthy snack, and can be customized with whatever toppings you like! You can also serve these miniature bites to guests as a quick and easy appetizer. These Mediterranean Mini Pita Bites are loaded with hummus, roasted tomatoes, cucumber, olives, jalapenos, feta and onion. It is one of the easiest and healthy starters packed with flavors, which works great as a quick snack or party appetizers. You can make your own Hummus at home or use the ready ones for this recipe if short of time.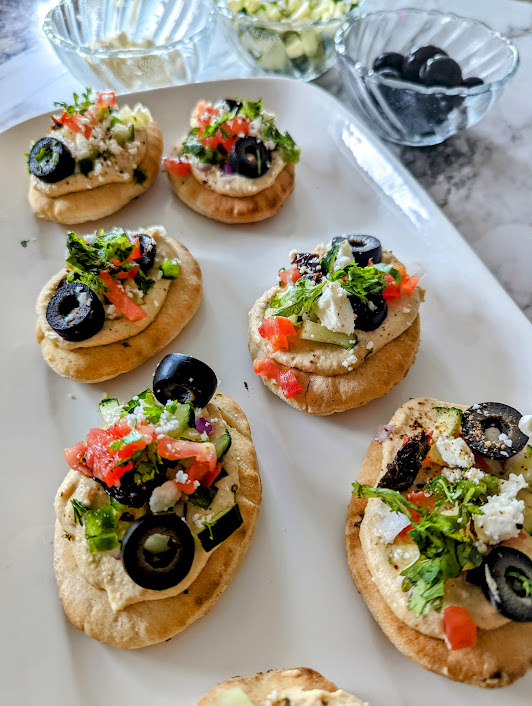 Ingredients
6-8 mini pitas
1 tsp dried parsley
1 tablespoon olive oil
1/2 cup homemade or store-bought hummus
1/2 cup chopped tomatoes or roasted tomatoes (I used both)
2 sliced Jalapenos
1/3 cup chopped cucumber
3 tablespoons sliced Kalamata olives or black olives
3 tablespoons finely chopped red onion
1/4 cup crumbled feta cheese
Fresh Parsley or Cilantro for Garnish
Salt and Pepper for Garnish
Instructions
Preheat oven to 400 degrees F. Place mini pitas baking sheet. Brush some olive oil and dry parsley evenly over each pita.
Bake in the oven for 10 minutes or until lightly browned and crispy.
Remove from oven and spread a thin layer of hummus over each round, going close to the edge.
Top each round with equal amounts of tomato, jalapeno, cucumber, olives, red onion and feta.
Sprinkle some salt, pepper and parsley on the top. Serve immediately. Enjoy!
Notes
Keep a close eye on the pitas in the oven to ensure that they don't burn. Every oven is different so you may require more or less time depending on your oven and the size of pita that you use.