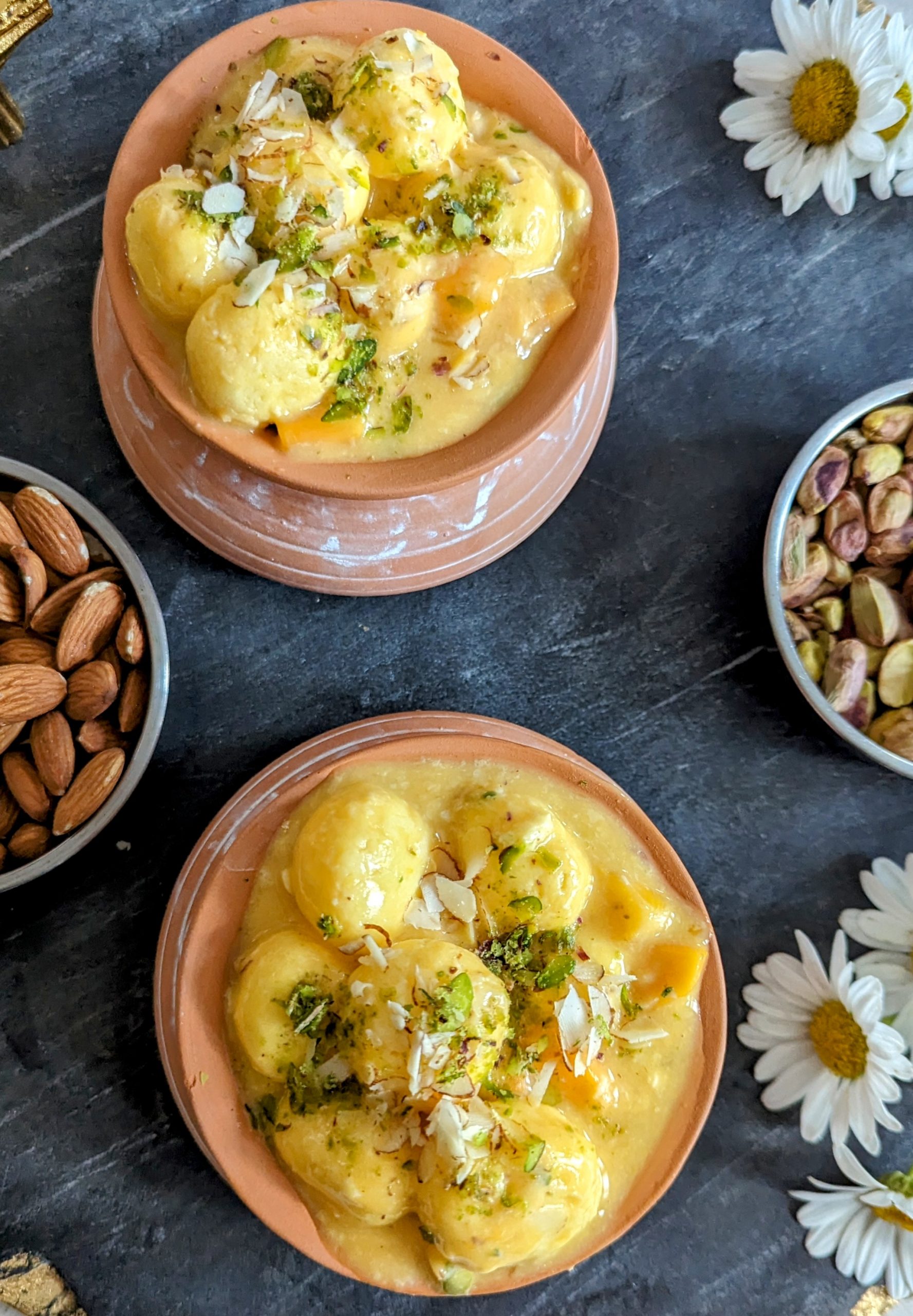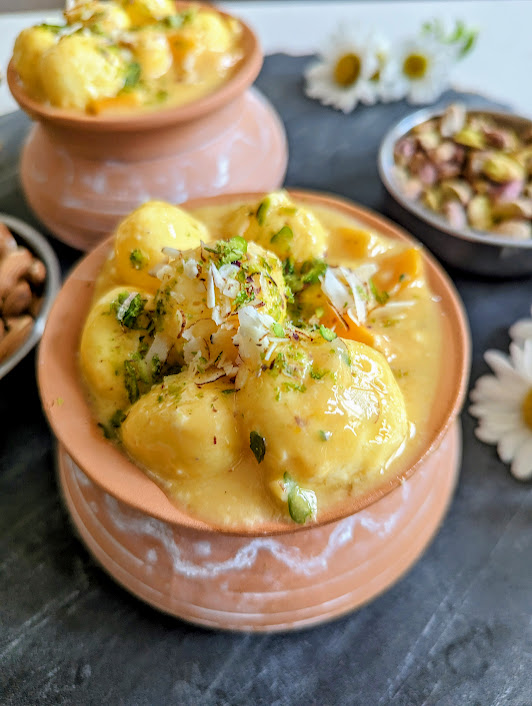 Mango Rasmalai is a soft, spongy and delicious Indian dessert prepared with mango flavor to suit the summer season. Rasmalai is a traditional Indian dessert prepared using milk, sugar and dry fruits. If you love Rasmalai, this variation and twist with the addition of Mangoes, Mango Angoori Rasmalai will blow your mind away.
One of the most popular Bengali sweet dish which is very similar to Rasmalai, these tiny paneer balls are soaked in milk syrup and flavored with mango and cardamom powder.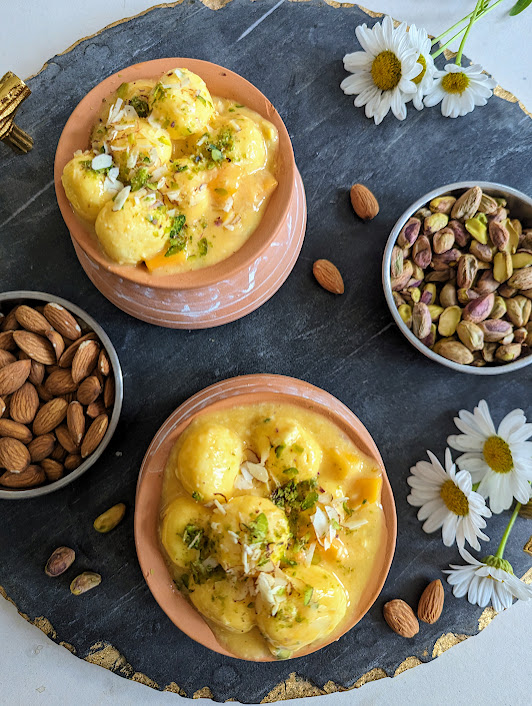 Ingredients
for the Rasgulla
1.5 liter or 6 Cup Cow's Milk
2 – 3 Tbsp. Vinegar
¾ cup Sugar
4 cup Water
2 pinch yellow color optional
For Mango Ras / Rabri:
1-liter Whole Milk
¼ cup Condensed milk or Sugar (or as per taste)
2 tbsp. Chopped nuts (almonds & pistachios)
1/2 tsp cardamom powder
1/2 cup mango puree
1/2 Chopped Mango (optional)
Instructions
In a thick bottom vessel, bring the milk to a boil stirring in between to avoid it sticking to the pan.
Lower the heat, add vinegar 1 tbsp. at a time and mix until you see all the milk has curdled (you see a clean greenish liquid, whey remaining). I used 2 tbsp. vinegar.
line a muslin cloth to a strainer. Filter the whey out collecting the curdled milk in the muslin cloth.
Gather the ends together and rinse the chenna under running water to remove the lemon flavors. Squeeze out as much of the excess water as you can and put some heavy weight to reduce the excess water.
Just before starting to knead the chenna mix sugar and water in a wide mouthed pan and bring to boil over medium heat.
Remove the chenna from the cloth and place on a flat plate..
Using the heel of your hand spread flatten and spread out the chenna. Once it is spread out, gather to the center and repeat the process until it becomes smooth. About 10 minutes of light kneading is required.
Divide the dough into very small balls and form a smooth ball.
Slowly slide the rasgullas into the boiling sugar solution. Cover the pan with a lid and cook over high heat for 5 minutes and after that medium high for 5 min then reduce to medium heat for another 5-7 min.
Usually 20 minutes is all that it needs. Turn off the heat and let rasgulla cool a little.
To make Ras / Rabri:
Heat milk in a pan and let it come to a boil.
Reduced milk to half quantity. Keep stirring occasionally.
Add condensed milk or sugar and mix well.
Now add cardamom powder.
Set aside and let it cool.
When completely cool add the Mango puree with the rasmalai and mix well
To Assemble
Remove prepared rasgullas / cheese balls from sugar syrup and press gently between palm or spatulas to remove excess sugar syrup.
Transfer them to a bowl and top with rabri on top of it.
Refrigerate for 2-3 hours or overnight.
Garnish with nuts, Chopped mango and serve chilled.