Learn how to make French toast without eggs! This easy French toast recipe absolute BEST Eggless French Toast! They're fluffy on the inside and lightly crisp and golden on the outside. When you serve it with Pecan caramel sauce it tastes heavenly! This Caramel French Toast recipe will spoil you forever.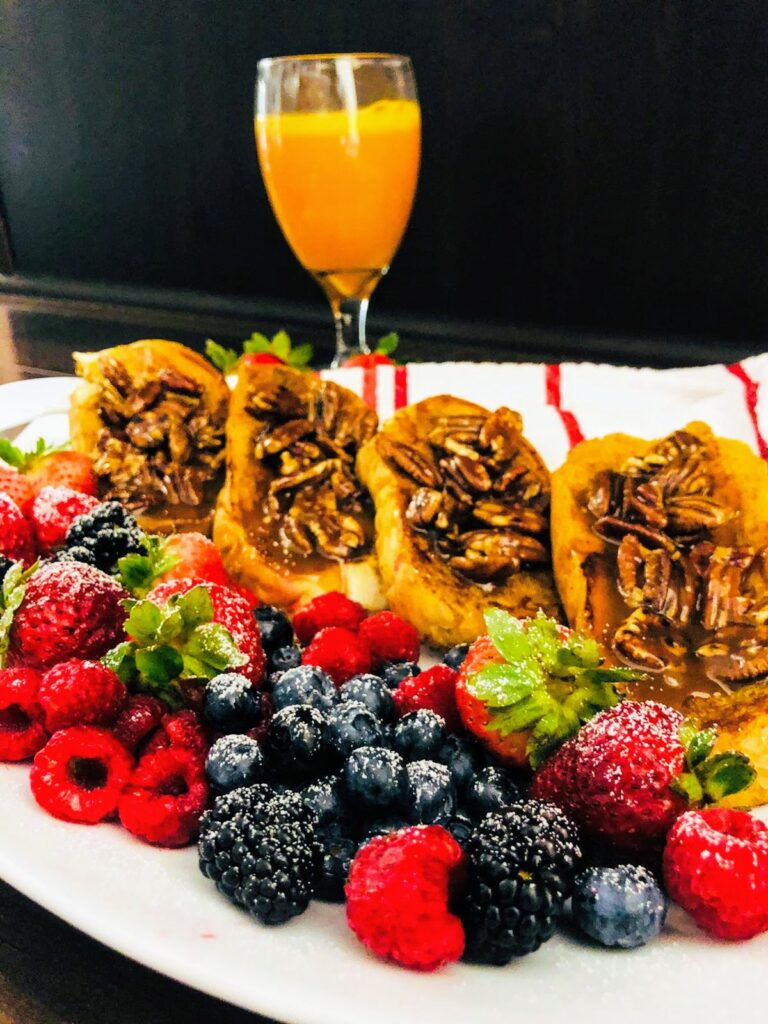 Ingredients For French Toast
½ cup milk
2 tbsp cornflour or custard powder
1/4 tsp vanilla extract
1/2 tsp cinnamon powder
1 tbsp sugar
2 tbsp butter
4 slices thick white bread
Ingredients For the Caramel Sauce
1/2 cup granulated sugar
3 Tablespoons butter, room temperature
1/4 cup heavy cream, , room temperature
1/2 cup Roasted Pecans or walnuts
Instructions for the Caramel Sauce
Heat granulated sugar in a medium saucepan over medium heat, stirring constantly.Sugar will form clumps and eventually melt into a thick brown colored liquid as you continue to stir. Be careful not to burn.
Once sugar is completely melted, immediately add the butter.
Stir the butter into the caramel until it is completely melted, about 2 minutes.
Very slowly drizzle in 1/4 cup of heavy cream while stirring. Allow the mixture to boil for 1 minute. It will rise in the pan as it boils.Remove from heat.
Allow to slightly cool down before using. Caramel thickens as it cools.
Cover tightly and store for up to 1 month in the refrigerator.
Instructions for the French Toast
To make the batter add cornflour or custard powder, cinnamon powder and sugar in a large wide bowl and whisk well.
Add milk, vanilla essence and whisk till a smooth mixture is formed.
Heat a non-stick griddle. Grease it with butter.
Dip each bread slice in the prepared batter and Coat for both the side.
Place the bread slice on a hot griddle and cook from the side.
Serve hot with Pecan caramel sauce and fruit of your choice.