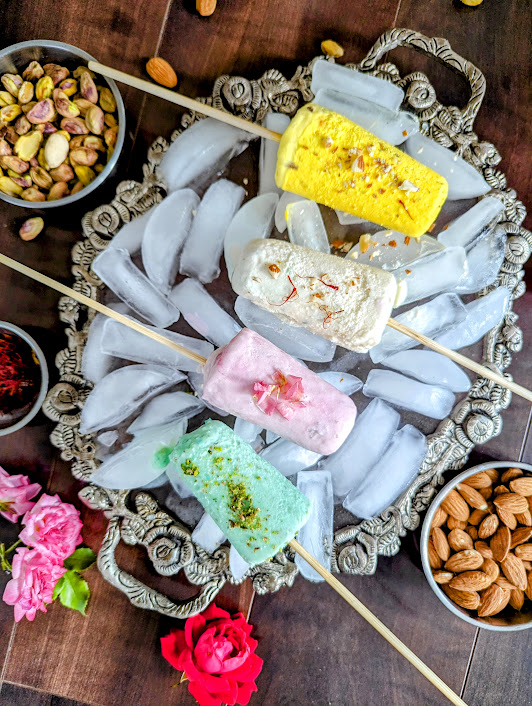 Easy Kulfi Recipe with Condensed Milk, a quick and simple version of the classic Indian ice cream. It has a rich and dense texture, and it's flavored with rose, saffron and pistachios. A delicious summer treat that can be enjoyed all year around.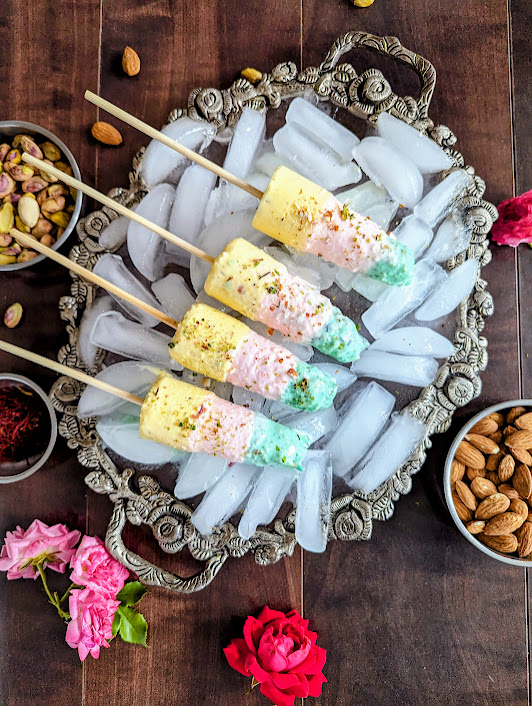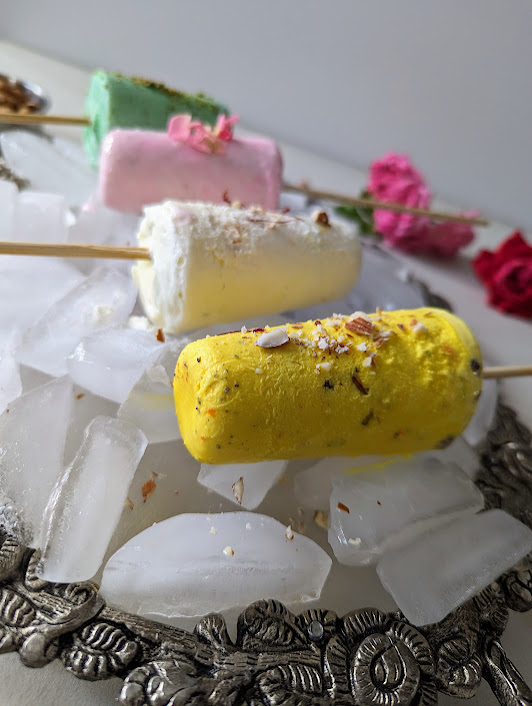 Ingredients
For base Kulfi
4 cup full Fat milk
2 tsp corn flour
1 tbsp. milk cold
1 cup condensed milk
For the saffron kulfi
2 tbsp. almonds, chopped into thin flakes
½ teaspoon ground cardamom
a pinch of saffron threads
For the rose kulfi
For the pistachio kulfi
1 tsp pistachio essence
2 tbsp. pistachios, unsalted and chopped finely
2 drops green food color
Instructions
For the base kulfi
Boil the Milk in a flat bottomed pan while stirring constantly. Constant stirring is required so that the bottom of the pan doesn't get burnt.
Mix corn flour with cold milk and add to milk.
Once the milk starts to boil, allow the milk to reduce to 1/3 of its original volume. add condensed milk. turn off the heat and let it cool.
Divide mixture in three portion.
For the saffron kulfi
5. Add cardamom pods, saffron and almonds mix well
for the Rose Kulfi
6. Add rose essence and red food color mix well.
for the pistachio Kulfi
Add pistachio essence, pistachios, green food color mix well.
Now you can make layer kulfi, add one flavored Kulfi into Kulfi molds then freeze it then another layer of Kulfi then freeze it then you can add third layer of kulfi and freeze it.
Before serving, overturn the molds onto individual plates (they should come off easily from the molds. If they don't let the Kulfis thaw for a minute or two as they melt at the edges and you can run a knife around the inner edges of the mold). Garnish with chopped Pistachios and Almonds. Dried Rose petals.