This hot corn dip will be the best use of corn. Hot Corn Dip – Perfectly Creamy And Cheesy With The Best Mexican Flavors. Everyone Goes Crazy Over This Corn Dip Recipe! Hot Corn Dip is such a delicious and easy appetizer recipe to serve with chips, crackers, or veggies! The perfect game day party appetizer ever!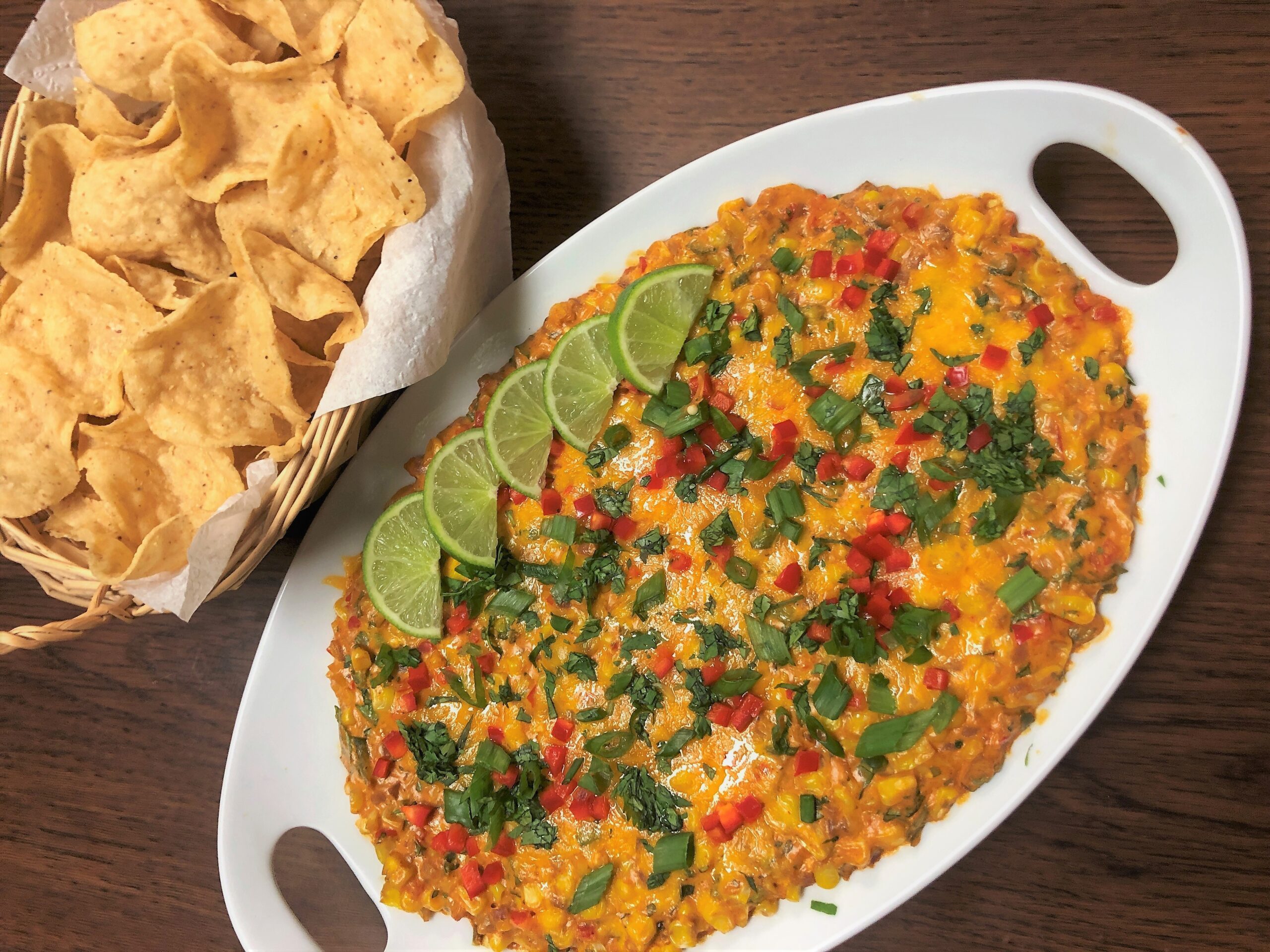 Ingredients
2 cups frozen corn, thawed or substitute with 3 medium fresh corn ears or 1 canned corn (15- ounce)
1/4 cup cream cheese, softened at room temp
½ cup sour cream
3/4 cup Cheese sauce
½ cup cheddar cheese
2 tablespoon taco seasoning
1 Tablespoon minced garlic
¼ cup green onions, chopped finely, divided use
3 tsp olive oil
1 red capcsicum / bell pepper , diced
1 green capsicum / bell pepper , diced
1 small red onion , finely chopped
1 tablespoon Green chillies or jalapeño finely chopped
¼ cup Coriander / cilantro , chopped
corn chips, for dipping
Instruction
Add 2 tsp oil in a skillet over high heat. Add corn and garlic. Cook, stirring for 4-5 minutes or until corn is golden. Transfer corn to bowl.
Add 1 tsp of oil. Add both capsicums and onion, cook for 2 minutes until softened. Add to a bowl with corn.
Preheat the oven to 350 degrees F.
In a medium mixing bowl combine cream cheese, sour cream, cheese sauce stirring until no lumps remain.
Add the rest of the ingredients except cheddar cheese.
Spread the mixture in a prepared dish and sprinkle with 1/2 cup cheddar cheese.
Bake for 15-20 minutes, until mixture is warm and cheese is melted.
Optional – place under broiler for approximately 30 seconds to brown cheese if desired.
Garnish with coriander, green onion and red pepper.
Serve warm with chips, crackers, or veggies.
Notes:
Slow Cooker Method: Place all ingredients in a small slow cooker, and heat on low for 1 1/2 hours, or until all cheese is melted.