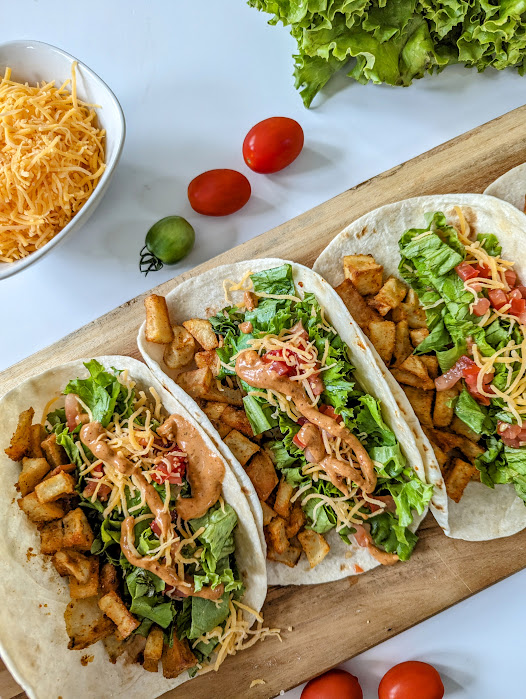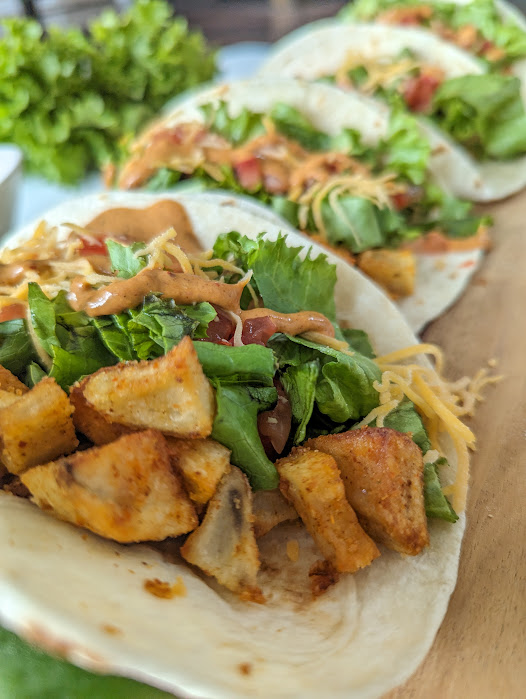 I love the Spicy Potato Soft Taco at Taco Bell These spicy potato soft tacos are made with the crispiest, most flavorful fried potatoes! They're easy to make, full of flavor spice, and can be customized to anyone's liking. The Taco Bell Spicy Potato Taco is a vegetarian taco made with fried crispy potatoes, Cheddar cheese, lettuce, and a perfectly spicy chipotle sauce. You can recreate the Taco Bell potato taco at home with this easy recipe.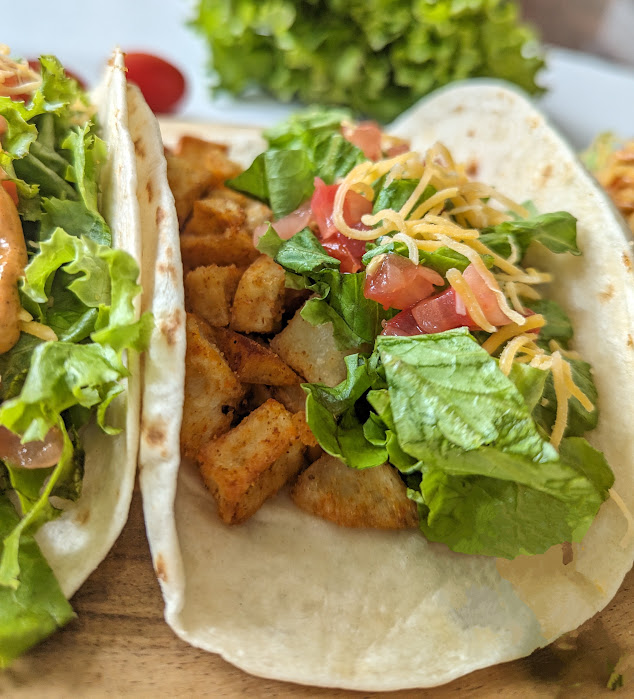 Ingredients
2 large potatoes, cleaned and diced
¼ cup oil
1 teaspoon onion powder
1 teaspoon garlic powder
1 teaspoon red chili powder
salt
Soft taco tortillas
lettuce, shredded
Tomatoes, diced
Cheddar cheese shredded
Spicy Chipotle Sauce ingredients
1/2 cup sour cream
1/4 cup mayonnaise
1 to 2 chipotle peppers in adobo sauce
1/2 teaspoon salt
1 teaspoon taco seasoning
1/4 teaspoon ground black pepper
1 large clove garlic
1 tsp lemon juice (optional)
Instructions
Peel and dice potatoes into bite-sized pieces.
Place a large pan over medium-high heat. Add oil to the pan. Once hot, add potatoes.
Cook for 5-10 more minutes or until potatoes are golden brown and crispy, adding more oil if necessary to keep potatoes from sticking.
Now add onion powder, garlic powder, salt and Red chili powder. Toss with the potatoes until coated.
Heat a frying pan or griddle. Once fully heated, place tortillas on it and cook for about a minute on each side. No oil needed.
Prepare chipotle sauce.
Once the potatoes are done, then assemble tacos – tortilla, potatoes, lettuce, tomatoes, cheese and a spoonful of chipotle sauce.
Chipotle sauce
Combine all sauce ingredients in a blender and puree for about 30 seconds.
Taste and add more salt or lime juice if desired. Store any unused sauce in an air-tight container.