Today's post is another Swiss roll cake. It's like almost too long I didn't bake any roll cake.Try this simple and quick recipe for Swiss Roll cake. A showstopper dessert to wow your guests this holiday. It will surely be a winner. Simple Way of Making Swiss Roll.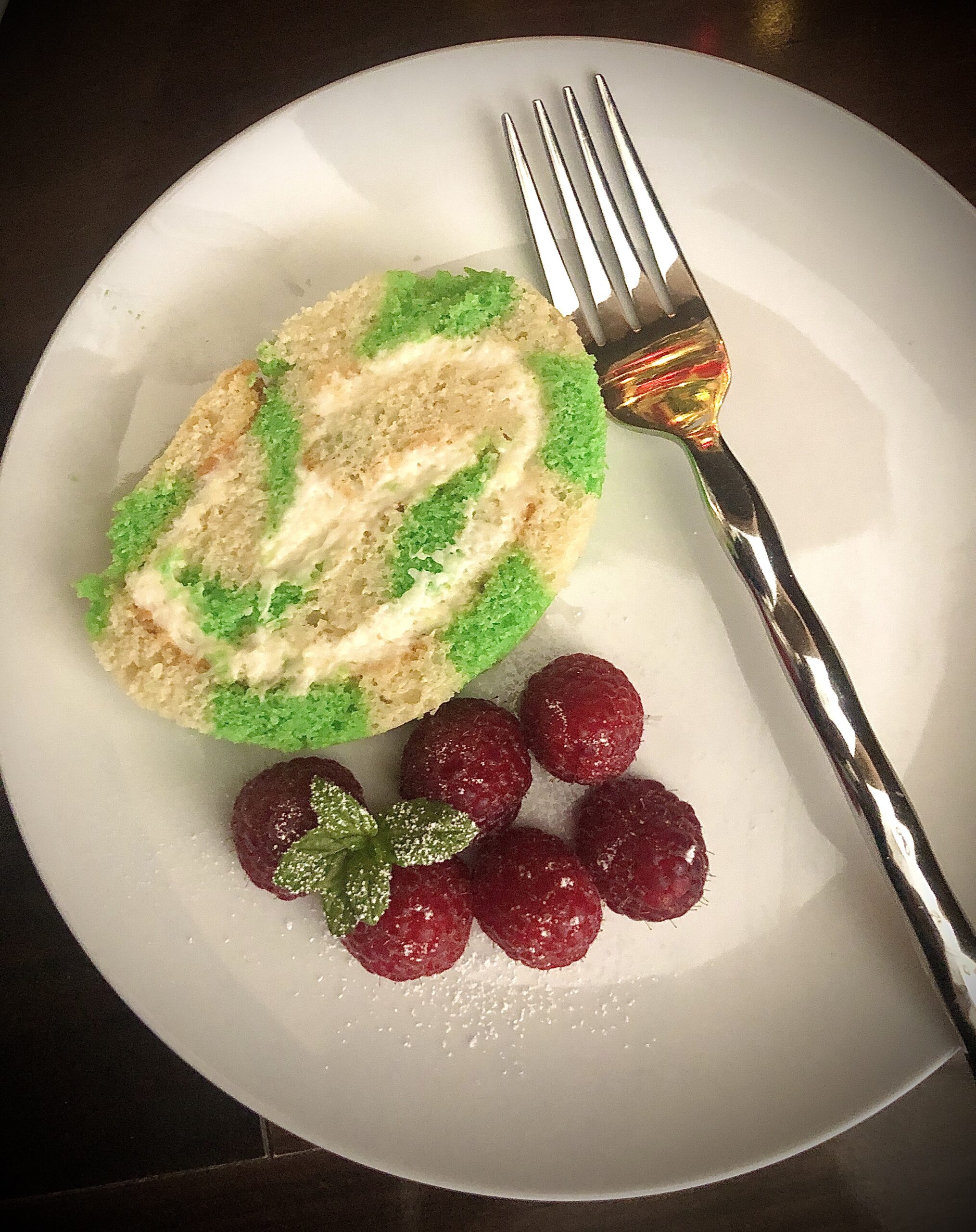 Ingredients
1  cup All purpose flour (maida)
¾ cup Milk
1  teaspoons Baking powder
½ teaspoon Baking soda
1/2 cup Sweetened Condensed milk
1/2 cup Unsalted Butter room temperature
1  teaspoons Pure Vanilla extract
2-3 drop green food color
Baking Tray ( 15.25*10.25*.75 Inch.)
Vanilla Whipped Cream
1 cup cold heavy whipping cream
½ cup sugar or confectioners' sugar
1/2 teaspoon pure vanilla extract
Instructions
In a bowl add flour, baking powder, baking soda and sift them.
Add condensed milk, butter, vanilla essence, beat until light and fluffy.
add milk and whisk well. Add rest of the dry ingredients.mix well.
Take about 1 cup of that batter and place it into a piping bag.
Add a few drops of green food colour for the rest of the batter fold nicely to combine then put into a piping bag.
Line a tray with parchment paper, Pipe the green batter over the prepared baking pan and make a line pattern. Now pipe the vanilla batter.
Keep it inside a preheated oven at 180°C for 10-15mins.
Let the cake cool completely. After the cake cools completely, invert the cake on the Plastic wrap. and carefully peel off the baking paper.
Spread the whipped cream, then refrigerate for 8-10 mins.
Then start from shorter side roll the cake tightly but gently with the help of plastic wrap like you roll a sushi.
Refrigerate the cake for 4-5 hours.
Our Vanilla Swiss Roll is ready.Slice and serve.
Make the whipped cream: Using a hand mixer whip the heavy cream, sugar, and vanilla extract on medium-high speed until medium to stiff peaks form, about 2-3 minutes.