Taco Tuesday looks a little different with this Taco French Bread Pizza taking center stage! All of your favorite taco flavors are nested in a loaf of French bread for a dinner the whole family loves.I love a french bread pizza! This Taco French Bread Pizza is so simple to make. Crispy, spicy, cheesy and delicious, this Taco Stuffed Bread is a quick and easy meal that gets dinner on the table in no time!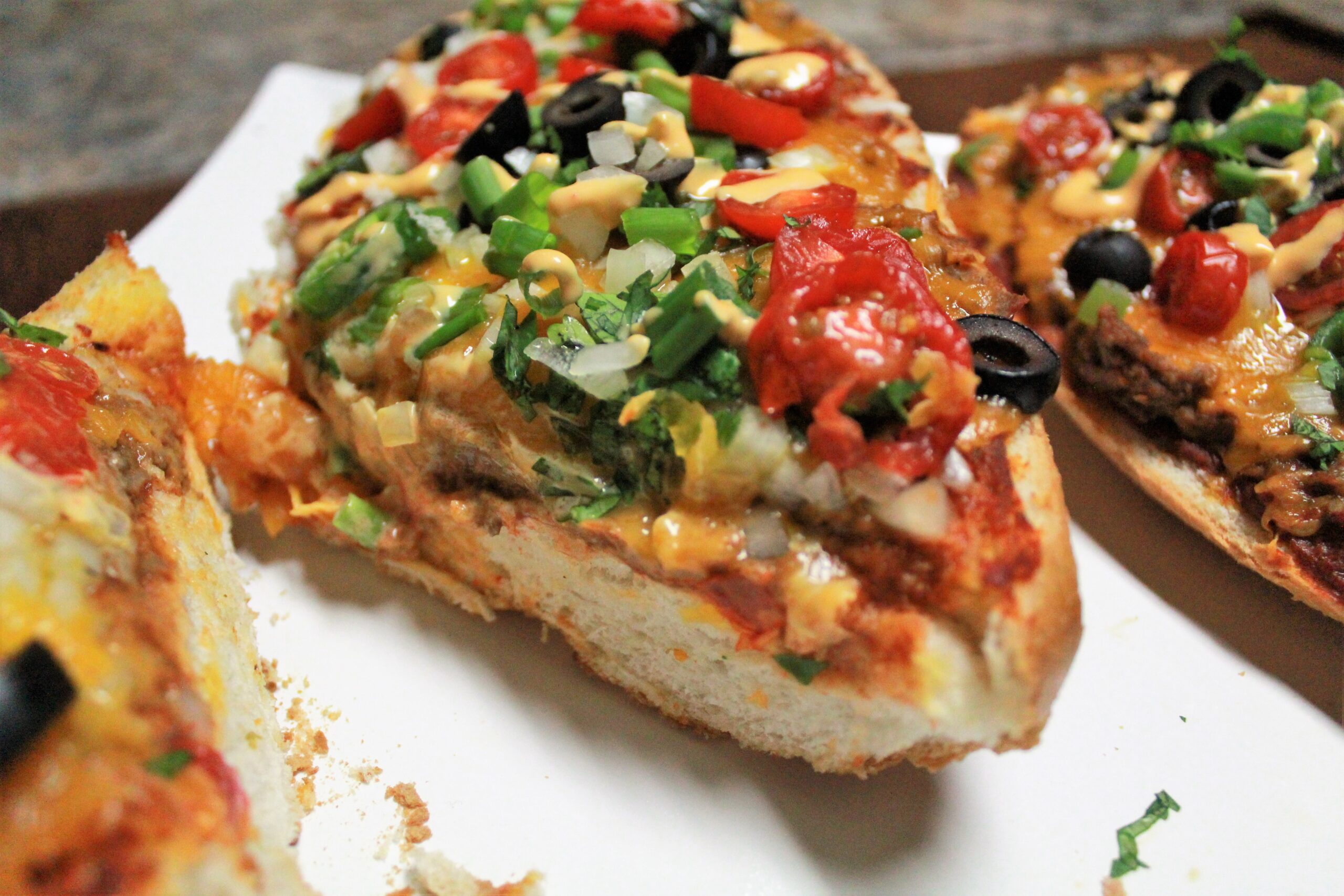 Ingredients
1 loaf French Bread
1 tablespoon taco seasoning mix
1 cup of your favorite taco sauce
1 16 ounce can refried beans or boiled and mashed pinto beans or boiled Rajma (red kidney bean)
2 cups shredded cheddar cheese
1 tablespoon minced garlic
1 teaspoon cumin powder
1 teaspoon chili powder
1 teaspoon oil
TACO TOPPINGS SUGGESTION:
1 small tomato diced
1 small can sliced black olives
4 green onions sliced thin
Few cilantro leaves
shredded lettuce
1 jalapeno
Chipotle Ranch – your favorite brand
diced avocados, or any other desired taco toppings
Instructions
In a large skillet  add oil, cumin powder, red chill powder and garlic. cook on medium to high heat for 2-3 min.Add boiled and mashed beans.
cook on medium heat for about 3 minutes.
Slice the loaf of french bread horizontally with a serrated knife. Place both halves on a cookie sheet.
Generously cover the bread with taco sauce.
place the bean mixture on top of the taco sauce.