Paneer Satay Recipe is made with marinated paneer cooked on a stove top or in an oven. This protein rich Paneer Recipe is delicious and can be served with a Peanut Dipping Sauce.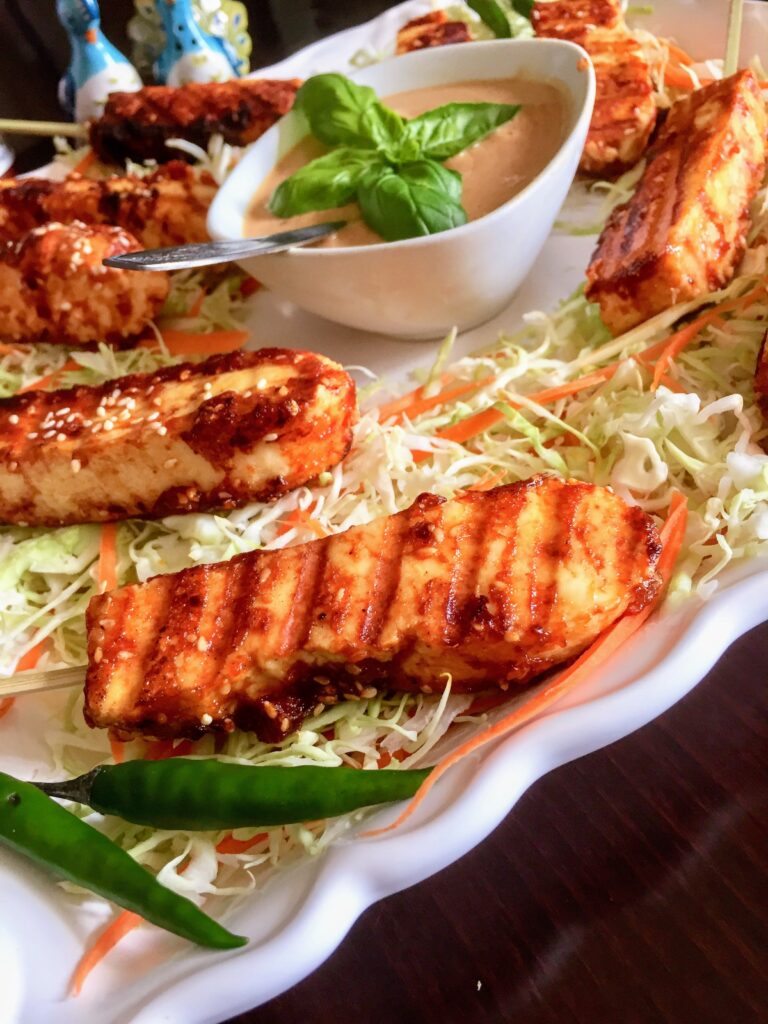 INGREDIENTS
250 gms Paneer or Tofu
1 Maggie masala – pouch
8 Skewers
2 Tbsp Canola oil for Grilling the Paneer Satay.
1 tsp chilli flakes
1 tsp Garlic paste
1 tsp Green chilli paste
1 tsp Ginger paste
2 tbsp tomato sauce
1 tbsp cornflower
1 1/2 tbsp schezwan sauce
1 tsp soya sauce
1 table spoon sesame seed
Salt – as needed
INSTRUCTIONS
1.Cut paneer into long pieces and keep aside.
2.Place the paneer fingers in a bowl. Add all the ingredients except oil and mix well. Leave to marinate for one hour.
3.Heat oil in a grilling pan or tawa. Thread the marinated paneer onto satay sticks and place on the griddle. Pour some of the excess marinade over the paneer and cook, turning the satay sticks to brown the paneer evenly on all sides.Serve hot with peanut basil sauce!
Peanut sauce:
Ingredients
1/2 cup peanut butter unsweetened
2 tablespoons soy sauce
2 tablespoons brown sugar or honey
2 teaspoons chili sauce
1 tablespoon fresh lime juice
3 garlic cloves pressed or grated
1 tablespoon ginger root grated
2-4 tablespoons warm water
Instructions
1.Combine all ingredients except water. Whisk to fully combine.
2.Add water, 1 tablespoon at a time, until desired consistency is reached. I normally use 2 tablespoons for a sauce and up to four if using it for a dressing.